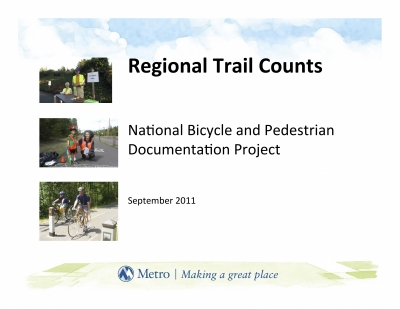 The 2011 Trail User Counts — a coordinated effort among parks providers around the region as a part of the National Bicycle and Pedestrian Documentation Project pioneered by Intertwine Alliance partner organization Alta Planning and Design — was the most successful count to date.
This fourth year of counting and surveying bicyclists and pedestrians took place along 107 recreational trails and on-street bike routes throughout Clackamas, Clark, Multnomah and Washington counties, involving fifteen agencies who counted more than 25,000 trail users over several days in September.
Take a look at the preliminary statistics and see what's in store for the next counting effort in the fall of 2012. View the presentation.