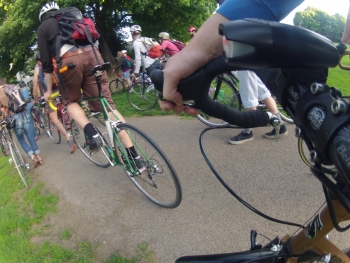 Do you walk, jog, bike or skate on trails in the region? Interested in helping us work to build more trails to connect the communities in which we live, work and play? Metro and The Intertwine are collaborating with partners across the region to help conduct the 2013 Intertwine Trail Count, and we need your help to make sure that all of the users of The Intertwine are documented.
These trail counts are imperative for The Intertwine as we continue to advocate for increased investment in regional trails. Thanks to our tremendous volunteers in years past, we can document that in 2011 there were 2,100,000 bicycle and pedestraian trips on the Vera Katz Eastbank Esplanade, and that this number only continues to grow as we build out The Intertwine's envisioned network of trails and greenspaces. This information is crucial for our local government agencies, and you can make a difference by volunteering for a two hour stint as a trail counter.  Last year, over 175 volunteers helped count trail users at 107 locations, and this year we're hoping to count in even more locations.
If you'd like to help volunteer, please contact Metro's Shawn Bacon. 
These counts will take place Sept. 10th through the 15th; volunteers unable to conduct trail counts but interested helping with data entry are also graciously welcomed and encouraged to contact Shawn as well.
Please click here for more information about how to volunteer for a trail count.