This RECESS on The Intertwine sponsored by KEEN.
The rays of the late summer sun tickle the face, and the cloudless blue sky hangs high above, but one can feel the breath of autumn seeping in. A day such as this one cries out for a relaxing stroll at our favorite green oasis in the middle of the city: Mount Tabor Park. Unlike the typical city park that offers a few acres of greenery predictably carved out of a city block, Mt Tabor, a volcanic cinder cone, rises from the valley floor of the Southeast Portland neighborhoods that surround it and elevates the greenery up above the city blocks below.
While there, you feel you left the city behind, insignificant and in a distance.
For our family a visit to this park is one of those rare events that the whole family can easily agree on. On the way there the kids' faces light up with expectations of adventures that awaits them on the "mountain".
There are several spots from which to start your park visit. On our last visit to the park we drove to the main parking lot at the visitor center on the north side of the park next to a basketball court and an amphitheater with exposed volcanic cinder.
The kids ran to the amphitheater to do their pretend performance at the small concrete stage while the grass and stone benches of the amphitheater offered a relaxing place for us adults to sit and lie down while listening to the "performance". It reminded us of the great times we had here in the summer listening to the concerts in the park.
After the pretend performances were over, we took a stroll south on a path that took us to the view of the city water reservoir number 5. Two other reservoirs hide within the greenery and the terrain features of the park. The future of the aging open water reservoirs with their stone water towers is uncertain. The rumor is they may get decommissioned as their aged design no longer conforms to the contemporary standards, but at least for now, they are a part of the park landscape.
The paved road above the reservoir led us to another path that climbs back up to the top of the mountain. The sight of statue of The Oregonian editor Harvey W. Scott, told us that we were close to the top. Once we reached the paved trail at the summit, we spent a few minutes resting on of the benches enjoying the view of Portland Downtown in the distance.
But soon enough the kids became restless and we had to move on to their favorite spot in the park where our adventures and strolls through the park usually end: the playground.
Editor's note:
Find out about events happening here with the Friends of Mt Tabor.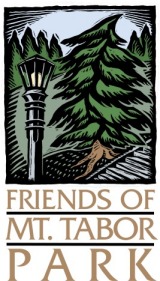 Photo: