An excerpt from the book "Wild in the City - Exploring The Intertwine."
Lacamas Lake Park became an instant jewel of the Vancouver-Clark Parks & Recreation regional park system when it was donated to Clark County in the 1960s by former paper giant Crown Zellerbach. Covering over 312 acres, the park hosts a six mile network of scenic hiking and cycling trails that pass through dense forest and by three impressive waterfalls, as well as Round Lake and Lacamas Creek.
At the south end of Round Lake, below the dam, Lacamas Creek becomes a cascading stream causing unique rock formations called The Potholes. Farther south in the central portion of the park, a bridge crosses the creek at Lower Falls, a picturesque spot that epitomizes the Pacific Northwest forested landscape.
There are many excellent birdwatching areas, and the spring blooming camas lilies are an annual feature worht a visit. Upland forests support a variety of wildlife, inlcuding deer, wood ducks, western tiger swallowtail butterfly, beaver, osprey, bald eagles, kingfishers and many others. Round Lake is a popular family fishing site, and the lake is stocked with bass, bluegill, and perch. Non-motorized boating is also allowed.
The park is considered the heart of a larger seven-mile ribbon of trails and greenways — connecting to Lacamas Heritage trail to the northwest and to the Washougal River Greenway Trail to the southeast. The three trail systems combined travel along three distinct water bodies, offering varying habitats and scenery.
The Lacamas Heritage Trail is a 3.5-mile gravel, multiple-use trail located on the west side of Lacamas Lake and Lacamas Creek. It provides superb opportunities for watching birds, including the red-winged blackbird. Look for their cup-shaped grass nests showing in the reeds just above the waster's edge. There are also interesting rock formations along the trail, as well as seasonal waterfalls. The southern portion of the trail is anchored by Heritage Park and offers picnicking, a boat launch, playgrounds, and toilets. The trailhead to the north at Goodwin Road also includes parking and restrooms.
The Washougal River Greenway Trail is 1.5 miles, anchoring the southeastern section of this larger trail network. Boardwalk sections of the trail pass through approximately 125 acres of contiguous greenway that includes several ponds, a 37-foot-high bridge that spans the Washougal River, and upland habitat. In addition to the trail, the greenway offers several small picnicking and seating areas, a primitive boat launch, and a connection to the recently renovated Goot Park. The greenway also supports fishing, kayaking and canoeing, biking, and swimming. Seasonally, the greenway is home to an array of fish and wildlife, including Chinook, chum, and coho salmon, as well as steelhead and cutthroat trout. Wildlife habitat in the greenway supports deer, racoon, great blue heron, bald eagle, osprey, belted kingfisher, northern flicker, American goldfinch, black-headed grosbeak, pileated, downy, and hairy wood-pecker, sharp-shinned hawk, wood duck, and many other species. 
Editor's note:
Make sure to get to Lacamas Park late April through early May for the blooming fields of camas!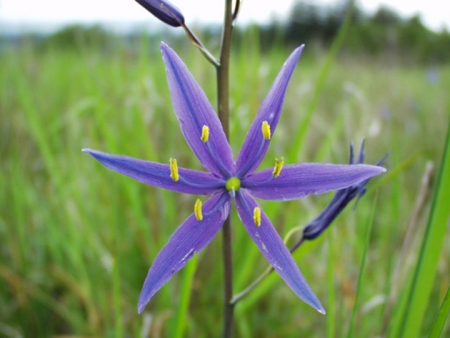 -
Tips for identifying swallows: Two of our most common swallows present an identification challenge to beginning birders and, in some light, even to the more experienced. To distinguish the two, note the color on the bird's back, how much white it has on its face, and whether or not it has a white rump patch. A violet-green swallow has a green back, and a noticable white rump patch. A tree swallow, on the other hand, has an irridescent blue back, crisp demarcation of white just below the eye, and no rump patch at all. They are both cavity nesters, which is why they are frequently seen in association with one another, although they are also seen in mixed flocks with barn, rough-winged, and cliff swallows.
Photo: