An adventure from Metro's ¡Vámonos! project.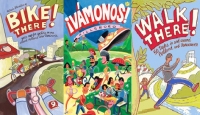 For this 1.5 mile walk or bike along Main Street to Walnut Street Park, start from the corner of West Main Street and NE 2nd Avenue, the The Civic Center Plaza at 123 West Main street offers relief on hot days with a water spray park, whether it's a full soaking or a gentle mist. Around the Plaza, benches offer a place to sit and look over the world's largest type of tree-- giant sequoias. 
Adjacent to South 1st Avenue, stop at Outdoors In Park at the Plaza for family fun, in the Civic Center's lower level. It's a drop-in playground with classes for adults too, open every day (fee charged). Also fun, and free, in the alley east of the Civic Center is "Kids Games" four mosaic sculptures by Hillsboro artist Linda Haworth. These urban street games have directions posted nearby.
The large rocks installed at the Civic Center are called columnar basalt. Basalt is a volcanic rock; it flowed, hot and glowing red, like pancake syrup over much of Oregon millions of years ago. In some places when it dried and cooled quickly, it started cracking; the cracks created the smooth sides you see here. It's like how mud can crack in a dried-up puddle, in hexagonal shapes.
The oldest sequoias in Oregon have been growing since 1880 at the Washington County Courthouse across Main Street along 2nd Avenue. Also here is the Hillsboro Farmers Market, which sets up on Main Street every Saturday, April to October. Started in 1981, the market is one of the oldest farmers markets in Oregon.
Walking east on Main Street, stop at restaurants, stores, or a movie theater before coming to the Glenn and Viola Walters Cultural Arts Center. Opened in 2004, this beautiful stone and timber former church is the place for classes, concerts, an art gallery and rentals for private events. The walls are rock donated to the church in 1948, with the condition that church members cut and haul the rock from the quarry themselves. They did, in their station wagons, trucks and cars, one large slab at a time.
East Main street is full of elegant old homes; enjoy them and heritage trees as you proceed east on Main Street, turning south on SE 12th Avenue for .03 miles, and then east on Walnut Street, before reaching the 2.5-acre Walnut Street Park with its splash pad, picnic gazebo, playground and basketball court.
Editor's note: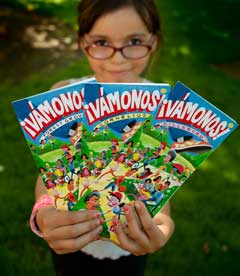 Metro has partnered with Kaiser Permanente to create bilingual ¡Vámonos! maps to encourage walking and biking in Hillsboro, Forest Grove and Cornelius. The¡Vámonos! Hillsboro map is a 5.4-mile biking and walking route plus connecting routes that take you around Hillsboro's historic downtown, to parks and recreation sites--both public and private--and by services, transit stops, stores, healthcare facilities and restaurants—just about anywhere you'd want to go in town. Hillsboro, a once agriculture-based town is now home to high tech industries nestled in the beautiful Tualatin Valley. Despite its name, Hillsboro is delightfully flat—a great place for walking and biking.
To learn more about all three ¡Vámonos! maps for Cornelius, Forest Grove and Hillsboro at www.oregonmetro.gov/vamonos.
Photo: