Moving America beyond "Middle Green"
By Mike Mercer,
October 9 2013
"The difficulty lies not in the new ideas, but in escaping from the old ones, which ramify, for those brought up as most of us have been, into every corner of our minds." – John Maynard Keynes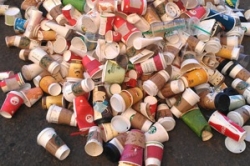 Mark reduced his contribution to the landfill by ending his use of disposable coffee cups. Carrie saved money, saved water and eliminated environmental toxins by cutting her meat consumption in half. When Liz ditched her car for commuting and errands, she also saved money, while getting fit, reducing her carbon footprint, and enjoying more sunrises.
These are the stories of simple changes that collectively add up to big changes; of citizens aligning their behaviors with the values they hold. To a growing degree, citizens recognize the need to change, but what we call the "Say-Do Gap" (the gap between what we say and do) continues to be too large to drive change on the scale that our current predicament requires. A 2011 Ogilvy Earth study found that "82% of Americans have good green intentions but only 16% are dedicated to fulfilling these intentions, putting 66% firmly in what we're calling the Middle Green."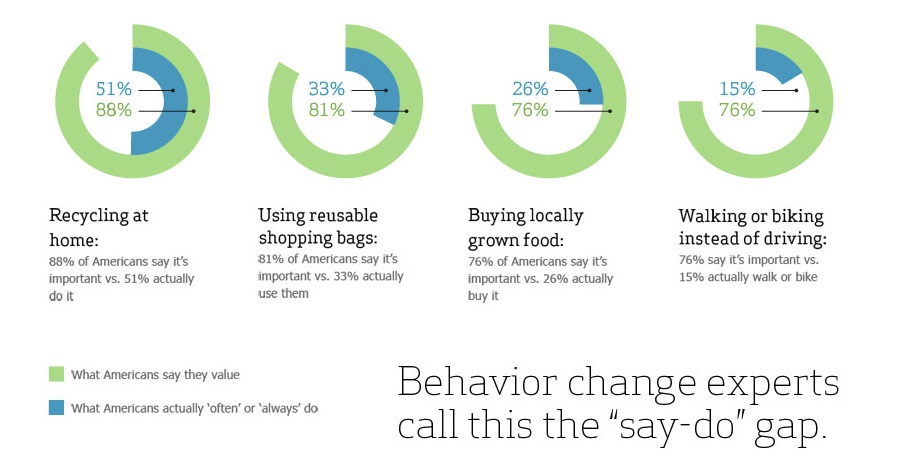 Humans, just like our non-human brethren, are creatures of habit. So, along with new policies, new technologies and appropriately-aimed market forces, how do we help this 66% align their intentions and actions? Not with more information! The "Middle Green" have already experienced that; hence their positive intentions.
"The volume of education continues to increase, yet so do pollution, exhaustion of resources, and the dangers of ecological catastrophe. If still more education is to save us, it would have to be education of a different kind: an education that takes us into the depth of things." – E. F. Schumacher
At the Northwest Earth Institute, we use a change process we refer to as Connect, Reflect, Act. Here are few thoughts on the context and application of our process:
Help people connect to others. We are social creatures. The data shows what we think and do is largely influenced by our social connections – even more so than what experts tell us. New behavioral norms emerge from what we see others do and say whom we perceive to be "like us." Therefore, we provide opportunities for shared learning and storytelling, in person or through other forms of media.
Make change fun. We try to tie change to values of both altruism and self-interest. As noted in the Ogilvy study, most people want to do the right thing. When we connect doing the right thing to competition (our social nature) or incentives (self-interest), we move past the "Say-Do Gap" into action.
Help the participant get focused. We've noticed that a barrage of messages over a short period of time will, like those inspirational quotes that hang in the hallway, become just that: wallpaper. With busy schedules, Americans are more likely to commit to changes for a defined and relatively short period of time. So while we offer participants many options to find a change linked to what they most value, we also encourage them to keep it simple (one behavior at a time).
Are you and your team ready to move past the "Say-Do Gap" and transform your values into action? Check out the 2013 NW Earth Institute EcoChallenge: a two-week campaign for change launching in less than a week!
Thousands of your peers from across The Intertwine have already chosen a change to implement from Oct. 15-30 – from taking 5-minute showers, to buying drygoods from the bulk bins, to powering off electronics at night. As EcoChallengers, collectively we'll prove that small actions can create real change.