Across The Intertwine, social changes shape our sports fields
Juan Carlos Ocaña-Chíu,
October 29 2014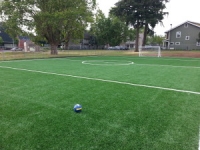 After a long, hot summer, the weather is finally changing. The fall season is here, bringing with it foggy mornings, pumpkin-flavored treats everywhere, and increased utilization of park space by sports enthusiasts.
Immigrants like me make up a significant number of the people vying to use The Intertwine's available park space for sport practice. And for the majority of us there is one sport that matters: soccer, or fútbol, as Spanish-speakers call it.
I grew up in Ecuador and my earliest sports-related memories are of my family watching important fútbol matches together.  When I moved to United States in 1993, I knew that soccer was not high on the list of most popular sports for Americans. However, the lack of interest I found in Corvallis, where I first lived here, still amazed me.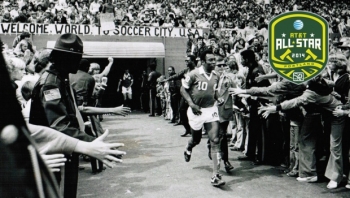 My Oregon friends assured me that Portland was different: Soccer City USA. But despite their stories of the old Timbers, the North American Soccer League, the games Pelé played in then-called Civic Stadium, something about it all seemed very distant.
When I moved to Portland in 1996, I found the passion I was looking for in a few scattered sports bars around town, where small but loud crowds, decked out in their countries' team's jerseys, screamed their lungs out. I also found that passion in neighborhood parks like Lents, Rockwood Central, and Fairview, where I saw Latinos and other immigrants coming together in any available open space to form soccer teams, and playing one another primarily on weekends.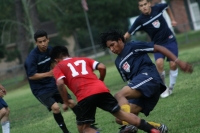 In the late 1990s, when I worked at an east Multnomah County social service agency, I became aware that there were conflicts for park space utilization between these pick-up soccer games and the locals who practiced other sports, situations, according to the Latino immigrants I worked with at the time.
This is because fall is not just soccer season, but also American football and rugby season, which meant that there was a lot of competition for those open spaces. This problem was compounded by lack of awareness of the rules to reserve and rent park space, different expectations about trash disposal and language barriers – resulting sometimes in tense situations.
It's a tension that, fortunately, seems to be on the decline.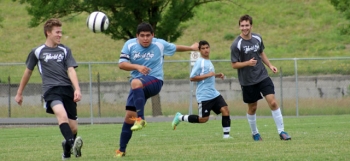 Since 1990, the Portland metropolitan region has experienced significant growth in the number of Latinos and other people of color. Parallel to this demographic change, soccer has also gained in popularity and is now one of the nation's top five most popular sports for both youth and adults.
Perhaps as a direct result of these changes in demographics and sports preference – as well as active outreach by parks and recreation districts to immigrant communities, and the development of more multi-sport park space – my friends and I have observed these conflicts over park space to be less common these days.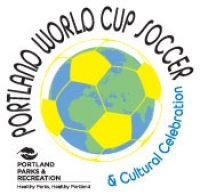 A great example of these successful outreach efforts is Portland Parks & Recreation's Portland World Cup program, which seeks to celebrate the diversity of Portland's immigrant and multicultural communities through soccer, employing the sport to better integrate recent immigrants, especially youth, into the fabric of the city.
This annual competition started in 2010, and in the 2014 tournament 20 teams (16 boys and 4 girls) with a total of 400 youth participated, representing a similar number of countries and languages.
Eight young people from Haiti, Burma, Croatia, Mexico, Morocco, Democratic Republic of Congo, and Portland participated in the organization of the Portland World Cup.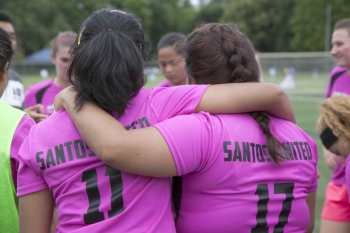 Tournament participants (and the adults in their lives) had the opportunity to share their cultural knowledge and values, develop partnerships among themselves and long-term. Portland residents, and learn more about the City of Portland and other organizations.
Soccer can be a powerful tool not just to learn the intrinsic values that any sport can teach – hard work, teamwork and good sportsmanship – but also to show people from all over the country a way to come together.
In the open spaces of our parks, shouting and sharing deep lungfuls of fresh air, we can celebrate the diversity of The Intertwine by sharing in a game beloved all over the world. Fútbol is for everyone.