Head west from Portland for one wild and wonderful watershed
Steve Engel,
November 5 2014
Drive west from Portland on Highway 26, and you cross over a local mountain range that most people have never heard of: the Tualatin Mountains. You may be surprised to learn that your westbound journey is also taking you into the Tualatin River Valley watershed. "What?" you say. "I thought I was in Beaverton, headed for Hillsboro."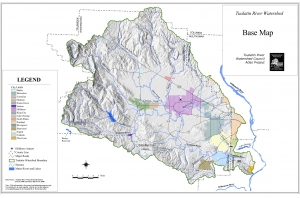 The Tualatin River watershed practically defines Washington County's 700 square miles. To most drivers on Highway 26, the Tualatin River itself goes undetected, if not all together unsuspected. But observant and inquiring minds might notice the horizon and wonder, "What happens to rain falling on the Coast Range, the Chehalem and Parrett ridges, and the Tualatin Mountains?" From there it doesn't take much to imagine that there might be interesting sights to see and stories to learn about this watershed.
For most of its 83 miles, the Tualatin is a lazy, looping river that drops just over 200 feet in elevation between Forest Grove and its terminus at the Willamette River.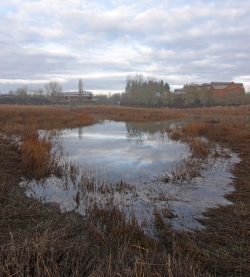 This shallow gradient creates a wide floodplain that has attracted humans and wildlife since the last Ice Age flood inundated the valley. Over half a million people now call the Tualatin Valley home. It is forested and farmed, homesteaded and housing developed, citified and industrialized. Yet, if you know where to look, you can still find a sense of place that might have been experienced by the native Atfalati, the area's first residents. And, it may well be the birds that help you find it.
Strung along the course of the river like beckoning jewels are three Important Bird Areas that provide critical habitat to wintering waterfowl. Finding them is easy enough if you are a migratory waterfowl, but if you are a driver or biker you'd do well to follow highways 99W, 219 or 47 south until crossing the Tualatin. There you'll find the Tualatin River National Wildlife Refuge (on 99W in Sherwood), Jackson Bottom Wetlands Preserve (on 219 in Hillsboro), and Fernhill Wetlands (on 47 in Forest Grove).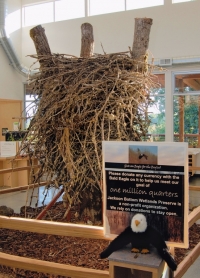 Jackson Bottom Wetlands Preserve is owned and managed by the City of Hillsboro Parks & Recreation Department. Its 635 acres are part of almost 3,000 acres of undeveloped riparian, wetland and agricultural habitat along the river. During the dry season you can explore the four miles of walking trails from dawn to dusk; the river overflows in winter and floods much of the preserve. All year round, from 10 a.m. to 4 p.m., volunteers welcome you to the education building with a nature store, classroom, office space, pollinator garden, demonstration garden and natural history displays — including an actual bald eagle nest.
If it's been a number of years since your last visit, you will be surprised by all the habitat changes. Several hundred acres of reed canary grass have been restored to willow, Wapato, rushes, sedges and other native plants. Restoration is ongoing, with opportunities to participate in plantings several times a year.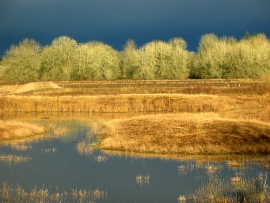 Educational programming serves over 5,000 visiting school children, and another 1,000 are reached by traveling programs. Community and adult education programming is increasing with the recent addition of a Nature Program Supervisor to the Jackson Bottom staff. 
Keep in touch with upcoming programming by checking the Intertwine calendar of events, the City of Hillsboro Parks & Recreation calendar, or, better yet, by coming out for a visit to the Jackson Bottom Wetlands Preserve.