A new way of valuing urban canopy
By Erica Timm,
September 9 2015
We've long known the benefits of trees: shade, stormwater management, habitat, traffic calming, community building — the list goes on and on. Thanks to research over the years, including some cited in the recent New Yorker article "How Trees Calm Us Down," we've also started talking about health, and how trees can enhance our well-being and make us feel better. All the more reason to get excited about trees!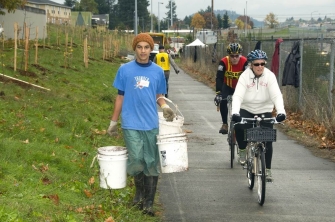 Those of us who geek out on trees have known for a while that they improve air quality. A mature tree can provide enough oxygen for two adults and sequester up to 48 pounds of carbon. A few years back, Friends of Trees partnered with the Oregon Department of Transportation, Metro and many others in a collaborative project that planted thousands of trees along the I-205 multi-use path. The physical goal was to create a forest edge along the path to buffer path users and the community from freeway fumes. The ancillary goal was to improve the beauty and overall appeal of the path as a destination, encouraging more people to get out and be active on it.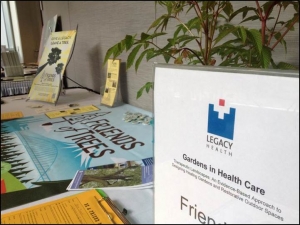 It wasn't exactly an awakening; rather, health has become a new way to appreciate the value of trees in our communities. Every tree we plant contributes to the health of our environment. Armed with this new understanding, Friends of Trees was excited to welcome new opportunities within the health community. We have been fortunate to participate in health and nature forums, events, conferences, serve on The Intertwine Alliance Health and Nature working group, and receive grant funding to help support some of this work. 
We're also piloting a series of neighborhood nature walks, using maps to identify areas that could really benefit from health-focused tree plantings, continuing to infuse active living into our tree plantings by promoting bike plantings, and looking for new partners and projects for the future.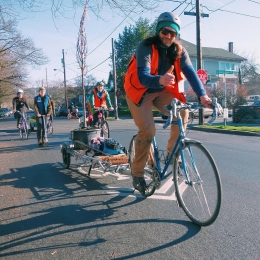 The New Yorker article highlighted a study that found that 10 street or front-yard trees on a block relates to nearby neighbors feeling one percent healthier. This apparently equates to a $10,000 increase in household income, or in becoming seven years younger. One of many compelling arguments for planting street trees! For 25 years, Friends of Trees has been bringing people together to plant and care for trees. It's good to know that with over 500,000 trees planted during that time period, we have been doing the right thing, for the cities we live in, for our friends and neighbors and the critters that call our urban canopy home.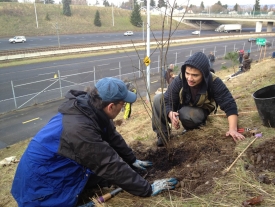 When I moved into my home, there was one tree on my block. Today there are 10, and while I'm not sure I feel exactly seven years younger, I do feel richer and healthier seeing them each day, walking beneath their small but growing canopy, and understanding they are part of a larger system making our community healthier in so many ways.
If you'd like to work with Friends of Trees to plant trees at your home, or simply join in the fun of planting, visit our website, or give us a call at 503-595-0212