The case for regional investment in active transportation
By Kari Schlosshauer,
March 4 2015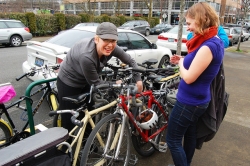 Many of us remember walking or bicycling to and from school as children. In fact, a generation ago, in 1969, nearly 50 percent of the U.S. population did so. Today that figure stands at 13 percent.
There are a number of reasons for this drop, and one of them is a lack of sidewalks, crosswalks, safe bike lanes, and other student-friendly infrastructure around our schools. As it turns out, it's not just students who are having a hard time getting around. 
It's no secret to anyone who's thought about or tried it: There are far too many places in our region that you cannot walk to, or from, and where most people would never, ever consider riding a bike. It's probably not a coincidence that although 18 percent of us in the Portland metropolitan region choose to walk, bicycle and use transit to get to our destinations, little more than half of all roadways in the region have sidewalks on both sides of the road. And we spend only 3 percent of our total transportation budget on walking, bicycling and trails projects.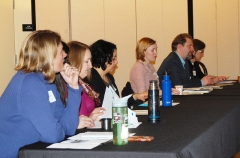 The reality is that too often transit-access projects, projects that improve safe routes around schools and neighborhood centers, and projects that provide healthy options for traveling distances shorter than 3 miles (which account for 44 percent of all trips, and could easily be replaced by walking or bicycling) have not traditionally been successful in a constrained funding environment. The reality is that most people do not recognize or understand the benefit of solidly investing in active transportation projects, or of the benefit they bring to the transportation system we all rely upon.
We have some work to do if we are to reach our regional and state goals of more people walking and bicycling, improved freight mobility through reduced traffic congestion, and lower tailpipe emissions.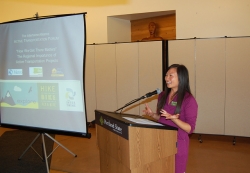 The Intertwine's Active Transportation Forum held in January was but one piece of an ongoing conversation under the banner idea that how we get there matters. After a panel of eight presenters each "made the case" from their unique perspectives — including health, travel-demand management, economic benefit and more — participants dove into table discussions to help frame the answer to the question, "How should we define walking, bicycling, trails and transit-access transportation projects in order to succeed in a constrained funding environment?"
We know there is a great need to continue these conversations, and to add to them, which was confirmed by the energy in the room and the difficulty keeping the conversation to one topic at a time. We are already at work planning the next forum, and welcome your input. 
Over the next few months, comments and ideas gathered during the "How We Get There Matters" forum will be analyzed and refined into a report to be made public here. It will focus on the outcomes from active transportation projects and how they can be better laid against our region and state's goals for transportation, health, climate, community, equity, environment and more. The report aims to provide outcomes and criteria demonstrating the regional significance of active transportation and transit access projects. 
The Metro regional goal is to triple the percentage of people choosing to walk or bicycle to 36 percent by 2040. How we get there does matter!