"Ground truthing" the restoration work nearest your back door
By Peregrine Edison-Lahm,
August 14 2013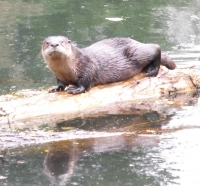 After spotting a certain mammal enjoying a trout dinner at Reed College, my husband and I shared the news with family and friends: "We have otters for neighbors!"  To us, what's really incredible about this is that we live in the middle of the city (click here to check out just how close Reed is to downtown Portland).
Reed "Canyon," on the Crystal Springs branch of Johnson Creek, used to be filled with tree-smothering, habitat-choking blackberries and ivy. But we've watched it transform over the 10-plus years that  we've lived near here. At first, some of our neighbors were a bit uneasy about the restoration process. For example, when the invasive trees were being taken out, the canyon looked a little bare for a while. But we all agree that it's lovely now. And exciting! A few summers ago, we began hearing a chorus of frogs (they make quite a ruckus in the evening.) And now (howdy, neighbor!) otters are joining the Canyon's resident frogs, beavers, bats, badgers, salmon, heron, owls, and more.
There's a reason I'm talking about restoration projects. At Defenders of Wildlife, I work with them all the time – via phone, databases, reports, and in the Conservation Registry.  It's my job to gather and map information about environmental work across North America. But there's nothing like seeing successful results in person, right near home, to  make me realize the true value of these restoration projects. Today, if I walk a short distance in the opposite direction of Reed Canyon, I can visit a coffee shop, a bike store and other urban delights. Otters one way, human habitat in another. That's a truly shared environment.
The Intertwine is full of neighborhoods like mine, thanks to the many people here working hard to create healthy habitat for wild creatures. Why not check out your own neighborhood on the Conservation Registry? Maybe, like my husband and I, you'll discover nearby pockets to "ground truth" the sometimes abstract achievements and setbacks of modern conservation work. Just go to the Registry map* and start exploring other Intertwine projects worth a field trip:
Live near me? A whole line of nicely "greened-up" spots dot Crystal Springs as it joins Johnson Creek and then the Willamette River.  

In Washington County, Bronson Creek Conservation Easement near Rock Creek protects a river, a ponderosa pine forest, and created carbon offsets.
* Note: Some of the projects shown in the Conservation Registry are marked "NOT publicly accessible." Please be respectful of private property and do not trespass.