By Mike Wetter,
December 29 2014
Early this year, Sharon Gary-Smith, executive director of the MRG Foundation, told me, "who you put behind the podium at your summits sends a powerful symbolic message." That got me thinking.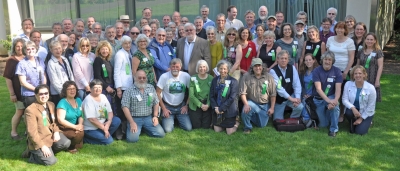 At the spring 2013 Intertwine Alliance summit, we celebrated the 25th anniversary of the greenspaces movement with a retrospective honoring those who have carried the torch for many years. There was a lot of gray hair behind the podium that day, but the "geezers" (their term, not mine!) showed that they have been and still are a force to be reckoned with. The "symbolic message" was that a dedicated corps of hard-working visionaries can powerfully affect the direction of an entire metropolitan region.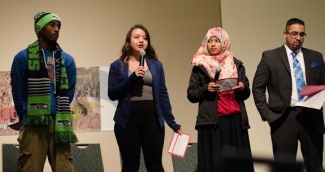 At this November's summit, the people standing behind the podium were those who will be leading the next 25 years. We heard from youth leaders emerging from the Audubon Society of Portland's TALON Program, the OakQuest project, the Youth Engaging in Natural Sciences (YENS) pilot project (a collaboration between Metro and Self Enhancement Inc.), the Oregon Zoo's ZAP teen program, the Intertwine Alliance's Plant Off, and Portland Parks and Recreation's GRUNT program. The Momentum Alliance led an exercise that showed the exciting potential of an inclusive and diverse future, and the important role Alliance partners can play.  
 While we showcased youth programs, the take-away was much bigger than youth program best practices. Intertwine Alliance board member Judy Bluehorse Skelton summarized the day in an email to Alliance staff:
The room was electric with the powerful and passionate voices of Youth sharing their stories, the challenges of historical and family trauma, displacement, isolation, prejudice, oppression and poverty, and the peace, healing and fun found in Nature.
As a new generation reclaims their health, vitality and connection to place, the Intertwine Alliance serves to strengthen these critical relationships, recognize and reduce barriers to accessing Nature, provide opportunities for skill-building and leadership, and ultimately offer a refreshment for the spirit.
If we are to achieve Judy's vision, the fall summit cannot be a one-off. Whether it be our initiative to bring together health and conservation organizations behind a common agenda, or our work to implement the Regional Conservation Strategy or Our Common Ground campaign, we will, individually and collectively, need to continue to make room "behind the podium" for a new generation to claim its critical place and forge the future.