Wheels are turning in Oregon City
By Blane Meier,
October 30 2013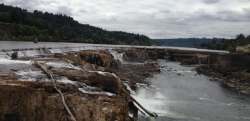 For the past 150 years, Willamette Falls has been hidden from public view by industrial mills. In 2011, the Blue Heron Paper Mill closed its doors -- opening the way for tourists to rediscover the natural beauty and rich heritage of the area. Within 10 years, we think the opening of North America's second largest waterfall by volume to tourism will prove one of the biggest boons for destination cycling in the Northwest.
While tourists of all kinds (600,000 each year, according to some estimates) will be drawn to the Falls, its history, and the mixed-use retail opportunities planned for this 23-acre site, cycle-tourists will be drawn for additional reasons. Wheels are turning in Oregon City -- from Trolley Trail connections to a bike-centric rail depot.
"The Amtrak station will be a hub that directs people to destinations around the city and county." -- Adam Beykovsky, manager, First City Cycles in downtown Oregon City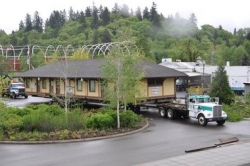 In 2014, Oregon City will open a bicycle-themed bistro at the Amtrak Train Depot just minutes from Willamette Falls. Cycling enthusiasts will be able to load their bikes onto Amtrak trains from as far north as Vancouver, B.C., and as far south as Eugene, and then step out onto the platform at Oregon City.
The bike bistro will feature bicycle sales and rentals along with craft brews and gourmet coffees. Just minutes from hotel accommodations, the depot will be a perfect jumping-off point for mountain biking, single- or multi-day cycling tours to local wineries, farms, parks, and other outdoor wonders. Oregon City is also connected to several regional bikeways such as the Trolley Trail and the I-205 trail, and boasts some of the most bucolic back-country cycling in the Metro area.
From the depot, cyclists will also have access to other outdoor activities such as kayaking and jet boating to the base of Willamette Falls, whitewater rafting down the lower Clackamas, and paddling on stand-up boards in the Clackamette Cove. For those who enjoy hiking, there are numerous trails along Canemah Bluff and the Promenade overlooking historic downtown Oregon City. There are also several parks, historic sites, and museums to visit all within walking distance.
Yes, it's an exciting time to live in Oregon City -- my home for the past 24 years. Just in the past few years, the Main Street area of this transitioning mill town has undergone a multi-million dollar revitalization. More recently, I've been attending hearings and open houses for the Willamette Falls Legacy Project.
It's this kind of momentum (along with a one-day Cycle Tourism Workshop put on by Travel Oregon in 2011) that inspired me to open First City Cycles. I encourage you to get involved as well -- by visiting the Project's website, joining the Oregon City Trail Alliance, or by cycling on over to see what's new in the "Pearl District of Clackamas County."