Voices from Portland Harbor environmental justice communities
By Cassie Cohen,
October 16 2013
According to a recent article in The Portland Tribune, something fishy is in the Willamette -- specifically the 11-mile stretch that comprises the Portland Harbor Superfund Site.
These are fish women of childbearing age are advised not to eat, based on findings from feasibility studies and reports. Yet the communities most at risk, as well as the general public, remain largely unaware of the Superfund site's existence and danger, with many residents continuing to fish in some of the Harbor's most contaminated areas.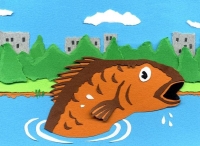 Recent press coverage in the Tribune, Oregonian, Willamette Week, and Indian Country has attempted to raise awareness of both the health risks of the Superfund site and opportunities for public involvement in the cleanup process. But, up until now, the Potentially Responsible Parties (PRPs) for the pollution have been some of the loudest voices.
With the Environmental Protection Agency (EPA) currently reviewing a draft feasibility study for the Portland Harbor Superfund site, now is the time to reach those most impacted by the Superfund and its cleanup with the message that their participation in the cleanup planning process is both welcomed and needed.
Both the EPA and Oregon Department of Environmental Quality have environmental justice policies, so public input from communities affected by the contamination in the Portland Harbor superfund site should be able to influence the outcome.
Portland Harbor Community Coalition partners recognize the right to fish, especially for those who rely on the protein source for their subsistence. Through interviews and videos, PHCC has begun to raise the profile of those affected -- communities including North Portlanders, Native Americans, Latinos, Eastern Europeans, African Americans, and people experiencing homelessness. But ensuring that these voices have weight equal to the PRPs will require support from across The Intertwine.
We hope you'll share some of the stories gathered by river users -- stories like that of Groundwork Portland Green Team member Logan, who wants to have children someday that he can safely bring to the river, and Art, a member of the Portland American Indian Movement, and Jill who would like to bring her kids to the river, but currently does not feel safe.
Click here to see more videos, email us or sign up via our website to support this Coalition effort.