Nature-based play movement taking root in Southeast Portland
By Mike Faha,
September 23 2015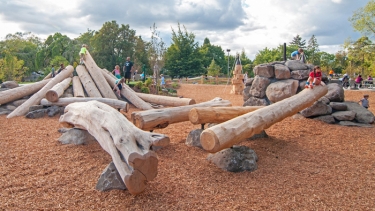 In a city known for innovation and love of the outdoors, Portlanders are finding new ways to connect to nature at a recently built play area in Southeast Portland. On any given day, Westmoreland Park is packed with children digging in the sand, climbing on boulders and log features, or building forts with large sequoia branches. Adults, too, are inspired by the natural elements and participate alongside children, exploring the play area's unique features.
A recent U.S. Army Corps of Engineers project (in conjunction with the City of Portland Bureau of Environmental Services and Portland Parks & Recreation) restored Crystal Springs Creek to its natural flow through Westmoreland Park. The creek restoration meant that the park's aging playground had to be moved away from the restored floodplain to higher ground. Portland Parks & Recreation saw this as an opportunity for a brand-new play area that would serve as a pilot project for nature-based play in the Portland park system. Sandra Burtzos, PP&R senior project manager, assembled a design team that included: GreenWorks, PC; environmental artist Adam Kuby; Mainline Design; KPFF Consulting Engineers; Cascadian Landscapers; Oregon Log Homes; and Stone Sculptures, Inc.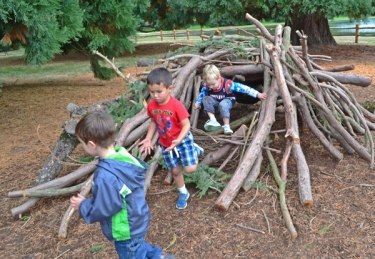 The nature-play area at Westmoreland Park officially opened on Oct. 25, 2014.
Our team anticipated that the play area would engage a broad age range. But the project has far exceeded expectations for attracting both the young and the young at heart. People come from all over the region to experience Westmoreland Park, and children are entertained for hours.
"I had the opportunity to take my daughter over to the new playground," one park visitor wrote. "She was able to reconnect with not only being human, but really with being a kid."
"It's the biggest, baddest, best play area I have ever been to!" exclaimed another visitor. Within a few short months of opening, the park is a success story for what is possible, and for what nature play can provide to enhance a community and reconnect people with nature.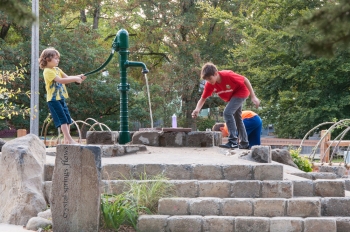 So, what is nature-based play? It's a current movement that responds to a basic human need in children – a connection to nature. Nature-based play areas provide environments where children can learn from natural elements and sow seeds of stewardship by fostering a deep connection to natural surroundings. 
Nature-based play has so many documented benefits, including improved imagination, creativity, problem solving, social development, cooperation, self-awareness, self-esteem, and improved balance and strength. 
Oregon Natural Play Initiative, a group of professionals who support and promote natural play in Oregon, says, "Natural Play challenges and fascinates children and teaches them about the wonders and intricacies of the natural world while they explore and play within it. It is intuitive and unstructured, constructive (or deconstructive), and timeless, encouraging interaction with natural materials, features, indigenous vegetation, and creative landforms."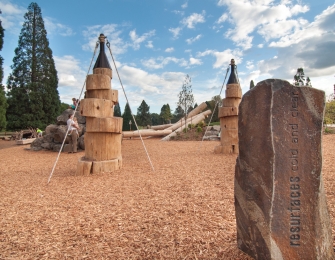 The theme behind the Westmoreland Park design is the restoration story of nearby Crystal Springs. We developed a sequence to the spaces that metaphorically follows the path of rainwater from the Cascades to Crystal Springs. This story is expressed through carved basalt columns accenting the pathway between the grove of sequoias and the bottom of the creek channel. 
While visually engaging, the park is also intended to be safe, with play features adhering to national safety guidelines where applicable, and maintenance-friendly. This meant that a lot of the design process took place in the field. The team worked together in the fabricators' workshops and onsite to determine the acceptable level of risk for each play element, evaluating each boulder and log, while still providing beneficial challenges important to childhood development. 
Play features include: 
The Creek Channel, a concrete stream channel with willow tunnels, water pumps and sand, where children manipulate the water's flow. Everyone has opportunity to participate in the fun; an elevated pooling area and at-grade water pump provide access to wheelchairs. 
 
The Forest Mound features salvaged logs tilted at inclines for climbing. The large and small logs leaning against the forest mound represent log jams in creeks and streams of the Cascades. The logs are sanded smooth with kerfed ends to avoid splintering, and treated with non-toxic internal wood stabilizer to increase the life cycle of each log. 
 
The eight-foot high Mountain Mound is comprised of mortared boulders of varying sizes, providing degrees of climbing challenge for all ages and abilities. 
 
The area encourages creative play with Loose Parts, including sequoia branches, pine cones, etc. Metal posts provide support for forts and other creative building. 
 
The Log Climbers are salvaged log segments for climbing, functioning as both sculpture and play. Logs are cut at angles and carefully composed to provide multiple climbing routes and challenges. 
Intrigued? Check out these other GreenWorks projects incorporating nature-based play sprinkled throughout The Intertwine: