Where are the Forest Parks of the future?
By Ken Pirie,
July 31 2013
"A street that ends in a forest—there is a magic there." — Ursula K. Le Guin
In Portland, we can thank early urban planning visionaries, steep topography, and recent public bond measures for our fascinating and sometimes abrupt transitions between industrial spaces and wild places.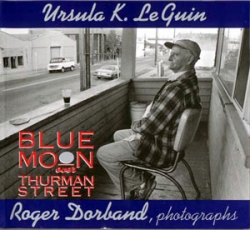 My favorite transition, Thurman Street in Portland's Northwest District, begins at railroad tracks along the Willamette River. Initially fronted by old industrial buildings, some converted to restaurants shadowed by an overhead freeway that severs the street for several blocks, Thurman re-emerges after a few blocks as one of the most delightful urban streetscapes in the city, with a mix of uses that could never be planned—a library next to a dry cleaner across the street from a French bakery, next to a tapas bar, across from a cooperative grocery store, across from a bagel shop (Ursula K. Le Guin describes it infinitely better in Blue Moon Over Thurman Street, the source of the above epigram). After several blocks of old Victorians mixed with higher-density townhouses, Thurman climbs a hill over a rickety bridge and winds past some of the city's grandest old mansions. Steeper it climbs, until some of the mansions become contemporary, angular boxes, with views to distant volcanoes. With one final curve, the street then just… ends.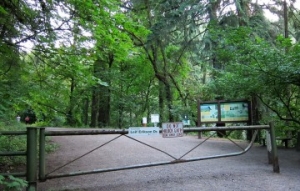 Had things gone differently, Thurman Street would have continued into the forest as the spine of a 1930s subdivision, one that would have replaced the deep woods with large homes. The failure of this Depression-era development saw these steep lots end up in city hands as payment in lieu of back taxes, and eventually subsumed into Forest Park. Today, Thurman extends almost 12 miles through woods as Leif Erickson Trail, criss-crossed by a network of narrower paths. Where Sunday drivers looking at house lots once wound in and out of endless ravines, a gate now ensures that only walkers, runners, and cyclists can wander, their progress measured by small concrete markers every quarter mile.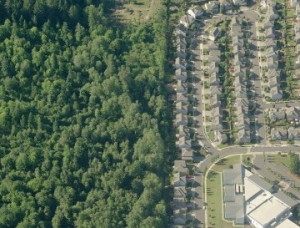 But where are the Forest Parks of the future? Despite impressive land purchases for open space on the edges of some rapidly growing cities, new subdivisions in our region still often ignore wildlands, turning the backs of homes to the very places that kids (and their parents) should be exploring—the deep ravines and open fields—sometimes fencing them off altogether. It's ignorance by design.
Richard Louv's writings suggest that many psychological and physical problems of modern children can be addressed, at least partially, with more time outdoors. Perhaps most importantly, without access to nature, we could all lose our commitment to protecting it. As Robert Michael Pyle writes in The Thunder Tree, "only the ditches and the field, the woods, the ravines can teach us to care enough for all the land."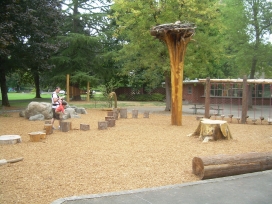 As an urban planner, I often try to provide connections to nature in town and neighborhood plans. Even something as simple as a trailhead sign and a narrow path can suffice to entice us into the tangled, mysterious world beyond. A popular trend in landscape architecture features the design of children's "nature-play" areas, which mimic unstructured, unsupervised forest adventures. As fabricated, ersatz nature, this is not ideal. But isn't it better than screen time?
Other steps include integrating open space into parks and making these the heart of a community, rather than the undevelopable leftovers at its margins. Schools can be located adjacent to creeks and wetlands, which need not be pristine wilderness to serve as nearby ecology labs -- or provide the magic that compels Le Guin, and hopefully future generations, to the woods at the end of the street.
(Originally posted on Terrain.org)