A community restoration story
Bruce Roll ,
October 20 2015
I'm still in shock after tallying up the Tree for All numbers this year: More two million native plants in the ground in 8 months, wow! When a bunch of Intertwine Alliance partners get fired up, roll up their sleeves, and utter the words "Bring it on," they mean business -- and Mother Nature smiles, knowing that as a result, 100 river miles have been restored in the Tualatin River watershed in the past decade.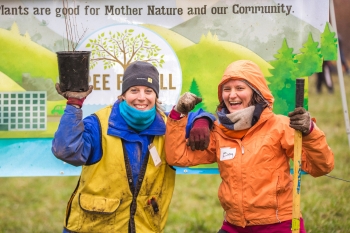 Tree for All is a community partnership of cities, nonprofits, farmers, volunteers and others who have joined hands (and shovels) to plant native trees and shrubs along the Tualatin River and its tributaries. Streams lined with native vegetation provide cleaner and cooler water, better flood management, and fish and wildlife habitat. A decade ago, the Tree For All challenge had a lofty goal of planting 1 million trees in 20 years. We have come a long way in 10 years, and in 2015 were able to plant 2 million in a single year. To date, more than 5.7 million native plants have been installed in the Tualatin watershed.
Seeing these plants installed brings new meaning to the term "Timber Army." A passionate army comprised of thousands of volunteers and forestry professionals contributes to one of the nation's largest and most successful community restoration programs. It's because of great Intertwine Alliance partnerships that we are now able to show some amazing on-the-ground results on a scale that is truly amazing. If I were to do it alone, I'd be 115 years old when I finished planting that many trees. Instead we are building a community network capable of transforming our natural areas in a way that supports humans and wildlife.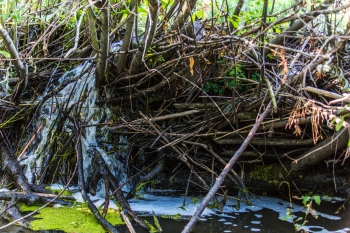 Just a few years ago, much of Fanno Creek was a wet dribble running through three cities and managed by reed canary grass, blackberries and occasional dredging. Today, it's fun to see juvenile fish in the backwater of a beaver pond where wood ducks raise their families, blue herons find dinner, and turtles sun on a log carefully placed by the beaver. Working together, pooling our resources, and sharing a common vision, more than 7 river miles have been restored along a multi-use trail that is now providing a nourishing environment for humans and wildlife.
Oh, and did I mention, this is good business not only for Mother Nature, but also for humans. The Intertwine now boasts some of the largest native plant nurseries in the nation, raising millions of native plants annually, and a restoration industry that is second to none.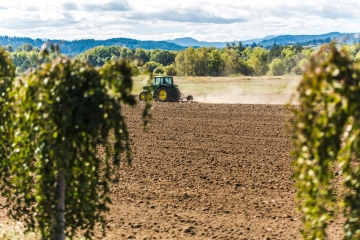 Let's not forget our agricultural partners who have also done some amazing community restoration on over 70 farms along 35 river miles. Another 30 farms are on the wait list for next year, and before long we should see the majority of working farms in the program. This community restoration program has proven that we can restore watershed health while supporting a vibrant agricultural community. Just like humans who require clean water for drinking and nourishing our crops, our rivers are also a vital highway for local fish and wildlife that utilize these riparian corridors for their health.
As we continue to expand this community restoration program, we have a great opportunity to change the way restoration is funded and implemented. Moving restoration from a series of pilot projects to a fully funded program working across thousands of acres is not a pipe dream any more. However, it does require that we retool the way governments, non-profits and private companies work together.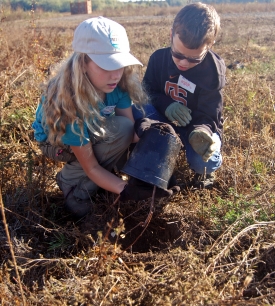 It's kind of like a Thanksgiving dinner with the relatives, where it's the experience of being together that is most important. We have been very successful this past decade because we did not ask Aunt Martha how many calories are in her mashed potatoes or the cost of the free-range turkey. Instead we focused our energy on the fundamental benefits provided by natural resources. We pooled our resources to make sure we provided clean air, water, wildlife habitat resources on a scale that is astounding. And we always welcomed new partners to the table to share in the experience and offer their favorite dish.
As we consider the next 10 years, I see some new partners coming to the table. Community restoration is good for human health, and the health industry is looking to The Intertwine Alliance to provide the natural-resource assets of clean water, clean air and opportunities for people to benefit from the many trails and natural areas we have restored.
The past decade has been a watershed period for our community, and was enabled through the many committed partners who are the stewards of our natural resources. We have made great progress, and will need to continue this work to ensure vibrant agricultural and urban communities and a healthy watershed.