Why do we underfund our nationally beloved park system?
By Nick Hardigg,
August 7 2013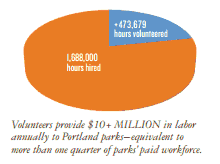 Of all the ways to measure "park love," volunteering stats are among the most convincing. In the City of Portland, volunteers donate 500,000 hours each year — equal to 20 percent of Portland Parks & Recreation's labor pool — to care for our park system. Here at the Portland Parks Foundation, we think this civic affection outweighs that of any other major city.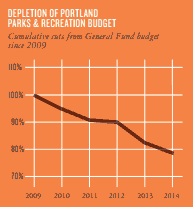 Yet despite this citizen commitment, our parks remain deeply vulnerable. Plagued by years of budget cuts, our park system's growing needs — from aging playgrounds to parkless communities — are obscured by hype from national parks excellence awards. Enough hype that nearly half of the Portlanders we recently polled didn't know that one of America's most beloved park systems is underfunded and at risk.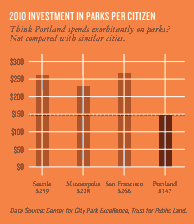 It's time to set the record straight: gold medals don't mean gold-plated. Even three years ago, Portland spent far less on parks per capita than cities like San Francisco, Seattle, and Minneapolis. Here are a few other park points to ponder:
One in five Portland families cannot readily access a park or playground;

Half of Portland's playgrounds will require removal or replacement in 10 years;

Park funding from Portland's General Fund has been cut 20 percent in five years;

With annual park maintenance underfunded by $30 million, we're generating an increasing backlog of inevitable safety issues; and

In the 19 years since Portland last passed a parks bond

—

 the tool we've relied on since 1900 to create and sustain our parks

—​

 our population has grown 25 percent.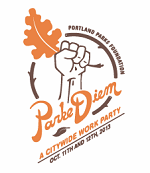 Here at PPF, its clear to us that while Portlanders love their parks, we're also inviting heartbreak by taking them for granted. And that's why we dreamed up Parke Diem.
Um, Parke what? Parke Diem — literally,"park day" — is our campaign to make history by launching Portland's largest-ever park-supporting event. By asking a record number of volunteers and park-supporting groups to pitch in for a few hours on October 11th and 12th (mark your calendar!), we aim to create an eye-catching new stat — one that shows, by the numbers, that Portland's park lovers won't sit by and watch as a park system's golden age quietly fades away.
Want to read more? Check out our Summer 2013 newsletter.