We're not the only animals using local greenspaces and yards
By Tinsley Hunsdorfer,
September 4 2013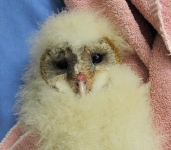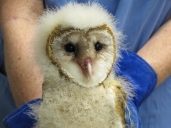 Last spring, I walked into the exam room of the Audubon Society of Portland's Wildlife Care Center to photograph a loud-mouthed young barn owl – its banshee-like screeches were a sign the bird was feeling better – that was being treated for a dog-inflicted wound. This was my first up-close look at a case that demonstrated we could do a better job of sharing the Intertwine with others.
As Audubon's communications staffer, I have the enjoyable task of blogging about the organization's wildlife rehabilitation work, and get to tag along with the care center's eagle-wrangling, bullet-extracting, wound-stitching, butt-kicking staff and volunteers as they treat more than 3,000 wild animals a year.
This is a large enough caseload that Audubon can identify problems affecting urban wildlife populations in addition to treating individual animals. My main takeaway from watching these trends unfold in the care center? You need more than good intentions and gut-level reactions to successfully coexist with wildlife in urban settings.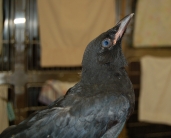 A baby bird found alone on the ground may look like an orphan to human eyes, but it is completely normal for young birds to spend time on the ground after fledging (leaving the nest), and their parents continue to care for them during this stage. Hundreds of healthy fledglings are brought to the care center each summer by people who incorrectly assume the youngsters are in trouble. Unless a fledgling is visibly injured, it should be left alone. It's also important to protect young birds from human hazards when possible: the barn owl I photographed had been cornered by an off-leash dog.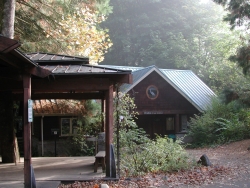 To help local residents navigate the nuances of human-wildlife interactions, Portland Audubon provides an "ask the expert" form and guides to living with urban wildlife on its website. Many of the topics we deal with are seasonal, and as fall rolls around, there is one problem that almost anyone can help address: migrating birds colliding with windows.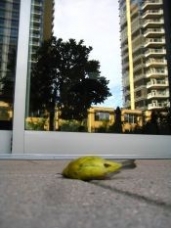 Birds are drawn into Portland's urban landscape during migration, where they run the risk of striking into windows around almost every corner. Many diurnal birds migrate at night in order to avoid predators, maximize daylight foraging hours, and make use of celestial navigation cues. Bright lights lure these nighttime migrants into cities and confuse them by obscuring their navigational aids, which makes it difficult for the birds to find their way back out of a developed area and its maze of glass.
To protect migratory birds this fall, turn off unnecessary lights at home from dusk till dawn through mid-November, and encourage employers to do the same at the office. There are also a variety of ways to reduce window strikes year-round (my favorite is to stop washing your windows).
Young Swainson's thrushes have already started hitting windows in Portland – several have been brought to the care center recently – so it's time to take action for our local wildlife. Turn off those lights!