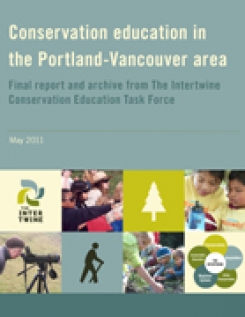 Our region boasts an impressive array of urban wildlife and high quality outdoor opportunites. These opportunities are laced together in The Intertwine: the network of parks, trails and natural areas enjoyed by residents across the region. Yet, national literacy is dropping, levels of childhood obesity and adult obesity are increasing at alarming rates and children are experiencing upwards of seven hours per day in front of screens.
As a region, we possess the collective capacity to address the challenges of what Richard Louv has called "nature deficit disorder" through our dynamic system of conservation education activities. In this inspiring report, the Intertwine Conservation Education Task Force proposes a vision, unrestrained by current trends or disparities within our system to energize and align efforts in the region.
The task force envisions a future where everyone shares a lifelong connectedness with nature. To realize this vision, the conservation education sector is called to engage head, heart, and hands in actively knowing, valuing, and stewarding this place we love.