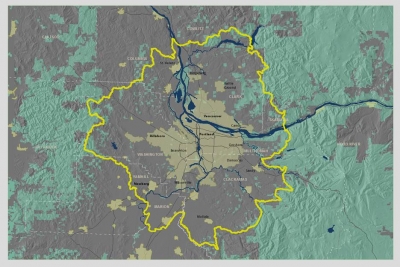 The region sits at the confluence of the Willamette and Columbia Rivers, a landscape which supports a rich diversity of wildlife and habitats. Today however, many of our local wildlife populations are experiencing serious long-term declines and only remnants of some historic habitat types remain. To protect, restore and manage the region's urban and rural landscapes — to retain their ecological values and biodiversity — there is a need to update and synthesize the myriad of existing initiatives into an integrated strategy that will provide a description of our region's biodiversity and a roadmap to desired future conditions.
In November, 2010 The Intertwine Alliance launched an effort to create a Regional Conservation Strategy and Biodiversity Guide for the Portland-Vancouver metropolitan region. Thanks to financial contributions from Metro, the Bullitt Foundation, East Multnomah Soil and Water Conservation District, Vancouver Audubon, and the National Park Service, and hundreds of hours of in-kind work from dozens of organizations, the completed documents are scheduled for release this summer. 
Outcomes of the Regional Conservation Strategy include: 1). creation of a set of complementary documents describing historic, existing, and desired future conditions for wildlife across the region's urban and rural landscapes; 2). engage diverse partners on the benefits and urgency of conservation by providing a document that inspires participation across jurisdictional political and neighborhood boundaries; 3). describe how this initiative nests within broader state and federal biodiversity initiatives; 4). place the Regional Conservation Strategy within the context of the Intertwine Alliance and build connections with traditional and non-traditional partners; 5). identify and access new funding sources at the local, regional, state, and federal levels; and 6). synthesize existing data and build on existing work.