Herons of The Intertwine
June 1 to June 12, 2016 
Each year since 1986, the Audubon Society of Portland has collaborated with local nonprofit organizations, private businesses and government agencies throughout The Intertwine to celebrate the Great Blue Heron. This year, the 30th anniversary, the event will take place from June 1 to June 12, kicking off with the reading of a proclamation at Portland City Council.
Portland's official city bird, the Great Blue Heron is an iconic species that represents the rich diversity of bird and other animal life native to the Portland-Vancouver region.
Great Blue Heron Week, an Intertwine project co-sponsored by the Audubon Society of Portland and Urban Greenspaces Institute, is also an opportunity to celebrate our collective efforts to expand and protect the natural areas that are home to herons and to the other plants and animals that make our region a special place to live.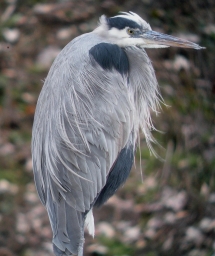 Each year the culmination of Great Blue Heron Week is the Ross Island Regatta, a kayak, canoe, human-powered craft circumnavigation of the Ross Island archipelago. This year the regatta will be held Sunday morning, June 12. We would appreciate it if you avoided morning events on that day, and encouraged your folks to come to the regatta.
 
2016 TRIPS/EVENTS  
Monday, May 30 (Memorial Day), from 10 a.m. to 3 p.m. Welcome Home to Vanport Hike-Bike-Listen-Learn. Leader: Susan Barthel, Columbia Slough Watershed Council. Enjoy speakers, exhibits, a self-guided walk and bike tours on part of the historic site of Vanport City. Built for World War II workers, more than 100,000 people lived here before it disappeared in the catastrophic flood of 1948. Speakers include Ted Kaye, Henry Mead Kaiser, Professor James S. Harrison, Multnomah Co. Drainage District staff, residents Bea Gilmore and Marge Moss, and artist Linda Wysong. Exhibits include artifacts found at Portland International Raceway. Part of the Vanport Mosaic Festival. FREE. All ages. Portland International Raceway, 1940 N. Victory, Portland. MAX Delta Park/Vanport stop, one-half mile to event. For more info: Susan Barthel at 971-322-9025; welcomehometovanport@gmail.com; http://www.columbiaslough.org/index.php/events/event/108/Volunteer. 
 
Wednesday, June 1, at 9:30 a.m. Great Blue Heron Proclamation, Portland City Council. City Hall, 1220 SW Fourth Ave. Join Mike Houck; Bob Sallinger; former Portland Mayor Bud Clark (Whoop! Whoop!); and former staffer to City Commissioner Mike Lindberg, Ethan Seltzer, for a reading of the mayor's 30th annual Great Blue Heron Week Proclamation, kicking off Great Blue Heron Week.
 
Wednesday, June 1, from 7 to 8 p.m. Exploring The Intertwine: Birding The Willamette Greenway at South Waterfront. Meet Mike Houck for an evening heron watch on the temporary greenway trail at South Waterfront for residents and the public. Meet on the greenway trail on the Willamette River side of the Meriwether condominiums any time between 7 and 8 p.m. Mike will be there with his spotting scope. Bring your binoculars and spotting scopes, and dress for the weather. Directions: Take the Portland streetcar, bike or drive to SW Moody and SW Curry Street and walk to the eastern end of SW Curry and onto the temporary greenway in front of the Meriwether condominiums.
 
Saturday, June 4, from 7 a.m. to 3 p.m., Fifth Annual Ridgefield Big Paddle Festival. Leaders: Lower Columbia Estuary Partnership, Friends of the Ridgefield Wildlife Refuge, Clark County Parks & Recreation, Chinook Indian Tribe, City of Ridgefield, Port of Ridgefield, Ridgefield Kayak. Join a flotilla of kayaks, canoes and stand-up paddleboards for a two-hour interpretive tour along Lake River between Ridgefield and the confluence with the Columbia River. This paddle is rich in wildlife and cultural history. Osprey, bald eagles, otters, Great Blue Heron, and numerous other species of wildlife abound. Stops include the Lewis and Clark campsite and the Cathlapotle Plankhouse and will be preceded by a Welcoming Ceremony, Chinook Drumming and Blessing. There is also a fun-filled festival including vendor booths, a beer & wine garden, live marimba music, food carts, outdoor massage, an obstacle course, a scavenger challenge and walks along the waterfront.  Bring your own watercraft or rent from Ridgefield Kayak at a discounted rate. Registration (free)  is required only for the two-hour paddle itself. For more information and to register, click here. 
 
Saturday, June 4, from 12:30 to 1:30 pm. Storytime at Portland Audubon's Nature Store: One Hungry Heron. Located at 5151 NW Cornell Road, we feature free, fun, nature-based children's stories plus activities for children ages 4-8. Crafts and hands-on nature activities will complement the fun wetlands tale of "One Hungry Heron." Come help celebrate Portland's official city bird! Do the Heron-stick dance!
 
Sunday, June 5, from 8 to 11 a.m. Birding The Intertwine: Birds of Oaks Bottom Wildlife Refuge. Meet Mike Houck at the parking lot at the north end of Sellwood Park, SE Sellwood Boulevard and SE 7th Avenue, at 8 a.m. sharp. Bring binoculars and, if you have one, a spotting scope. 
 
Wednesday, June 8, from 8 to 9:30 a.m. Exploring The Intertwine: Birding The Willamette Greenway at South Waterfront. See Thursday, June 1, for details, but meet between 8 and 9:30 a.m.
 
Thursday, June 9, from 8 to 10 a.m. Birding at Fernhill Wetlands. Celebrate Great Blue Heron Week by joining Portland Audubon Avian Conservation Program Manager Joe Liebezeit and Clean Water Services Water Resources Program Manager Carol Murdock on a bird walk at Fernhill Wetlands. Learn about CWS's large-scale wetland restoration project to enhance wildlife habitat as well as help treat wastewater more naturally and cost-effectively. You will learn about Audubon Portland's citizen science monitoring effort to help understand how bird communities that use Fernhill Wetlands are responding to the habitat restoration. We'll be looking and listening for dozens of bird species ranging from waterfowl like Northern Shovelers and Wood Ducks, a host of songbirds including recently arrived long-distance migrants like Western Wood Pewees, and even secretive marsh birds like the Virginia Rail. Light refreshments will be served after the walk. Adults and children over 10 years are welcome. Group size is limited to 15. To reserve a spot, contact Joe at 971-222-6121 or via email (jliebezeit@audubonportland.org). Meet at the picnic shelter at Fernhill Wetlands, 1399 SW Fern Hill Road, Forest Grove, Oregon, 97117. Be prepared for an approximately two mile (round-trip) leisurely walk over relatively flat trails. Dress for the weather. We will have scopes available, but please bring your own binoculars. For more information, contact Joe Liebezeit and visit http://audubonportland.org/local-birding/iba/iba-map/fernhill.
 
Saturday, June 11, from 10 a.m. to 1 p.m. Jackson Bottom Wetlands Preserve Great Blue Heron Walk. Join bird expert Rick Balazs to view the Owl Woods heron colony. Thirty to 50 pairs of herons nest in this stand of Douglas fir trees on the east edge of Jackson Bottom. Rick has spent hundreds of hours monitoring the birds over the years and knows the behaviors and antics of nesting herons very well. Meet at the Education Center at 10 a.m. Be prepared for a two-mile (round-trip) leisurely walk over mostly flat terrain. Dress for the weather, the trails may be muddy. Bring binoculars. A variety of other birds including bald eagles, osprey and songbirds may be seen. Free. A donation of $2/person to the Education Center is welcomed. Group size limited to 15; registration required by calling 503-681-5397.  For more information, click here. 
 
Saturday, June 11, from 8 to 10 a.m. Exploring The Intertwine, Herons of Rock Creek Greenway. Join Mike Houck on a hike along Hillsboro's Rock Creek Greenway and explore the wetlands and riparian habitat at the Norm Thompson corporate headquarters on Rock Creek. Directions: Norm Thompson is located at 3188 NW Aloclek Drive in Hillsboro. Take Hwy 26 West to NW Cornell Road, and head west on NW Cornell Road to NW Evergreen Parkway. Turn right (west) onto Evergreen Parkway West to NW Aloclek Drive. Turn left (south) onto NW Aloclek Drive. You will see a number of lowrise buildings on your left. It is difficult to see 3188, but if you turn into the driveway and proceed east through the parking lot, you will see the building number (3188) on the side of the building.  Meet Mike Houck promptly at 8 a.m. at the entrance to Norm Thompson's offices.
 

Saturday, June 11, at 9 a.m. SW Trails Walk. The June walk will be led by Hans and Jette Steuch. We will meet at Wilson High School and carpool to SW Brugger St. and SW Palatine Hill Rd., parking on Brugger. We will first walk through Riverview Natural Area. Then after crossing Macadam Ave., we will walk along the railroad trestle and follow Trail 5 up to Lewis and Clark College and on several roads in Dunthorpe before returning to our cars. The walk is 6.3 miles long and climbs about 800 feet. Meet behind the bleachers, near the food carts, at Wilson High School (SW Sunset Blvd. and SW Capitol Highway), and be ready to go at 9 a.m.  Sorry, no dogs are allowed in the Riverview Natural Area. For health reasons, there is no smoking on SW Trails walks. For more information, or to volunteer to lead a walk in your neighborhood, contact Sharon Fekety  at fekety@hevanet.com. 

​Sunday, June 12, from 9:30 a.m. to 12:30 p.m., Ross Island Regatta, Paddling Ross Island. The annual Ross Island Regatta is an opportunity to enjoy a morning on the Willamette River, paddling through the slow-no wake zone on the Holgate Channel and Ross Island lagoon, around Ross Island and back to Willamette Park. We will be looking at the bald eagle nest and the heron nesting colony on Ross Island, listening for birds and looking for river otter along the route. Meet no later than 9 a.m. at Willamette Park Boat Ramp to unload your canoe or kayak and get into the water by launch time at 9:30. This trip is family-friendly. There will be a safety boat along, and the trip is for beginning and experienced paddlers. Leaders include: Mike Houck, Urban Greenpaces Institute; Emily Roth, Portland Parks & Recreation; Bob Sallinger, Audubon Society of Portland.
 
Sunday, June 12, 8:30 to 11 a.m. Sauvie Island "Johnson Unit" Rookery Heron Watch. Leaders: Willow Elliott and Jackie Petersen. See one of the heron hot spots of Portland on Sauvie Island and view a large rookery actively nesting and flying to and from the Columbia River. Directions:  Meet at the pull -out on Reeder Road just across from the Marshall Beach Mobile Home Park. Search Google Maps with the "27000 NW Reeder Road, Portland OR 97231" address. Look for a large rookery in the cottonwood trees to the Wwest on the other side of an agricultural field. It's 8 miles from the Sauvie Island Bridge. Continue straight when coming off the bridge, past the Kruger's Farm Market along the dike. Turn right at the first intersection onto Reeder Road; (There's no street or stop sign.) Travel another 6 miles past the Gillihan Road intersection, keeping left on Reeder Road, and beyond the Reeder Beach RV Park. Park on the west side of the road at the ODFW gate entrance to the Johnson Unit for hunters. You can hear the herons in the cottonwoods to the west! Walk out on the dike past the gate, and look for an umbrella where we will set up scopes. No parking allowed inside the mobile home park across the road is allowed or access to the river through the private property. Bring binoculars and a scope if you have one; also sunscreen, rain and wind gear based on the conditions of the day. For more information or landmarks to find us, text Willow Elliott at 503-358-5848 or email salixsky@hotmail.com. No pre-pregistration necessary, just show up!