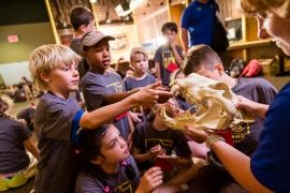 The Oregon Zoo's new education center will create a hub of environmental learning and activity to excite and inspire the inner conservationist in visitors. Key features of the site include the Nature Exploration Station (NESt), the Backyard Habitat, classrooms, a flexible events space, a cafe and program offices.
Goals:
A. Zoo audiences make lasting connections with Zoo partners and other visitors to share experiences, ideas and resources about safe places for individuals and families to be out in nature.
B. Zoo audiences learn and share ways to make environmentally responsible choices and to take meaningful conservation actions in their homes and communities.
C. Zoo audiences understand a key concept about nature, conservation and personal actions: Small things matter. Small things aggregate to have a big impact.
D. Zoo audiences understand that nature is nearby and buzzing with activity in urban settings, even in our backyards and gardens.
E. Exhibits and activities in the Education Center motivate visitors to make their backyards, gardens and communities more wildlife-friendly.
F. Zoo audiences learn to have a personal connection and appreciation for small animals, such as insects and invertebrates, through live displays.
Visit the zoo's website for much more on the education center's purpose, design and role in the community.