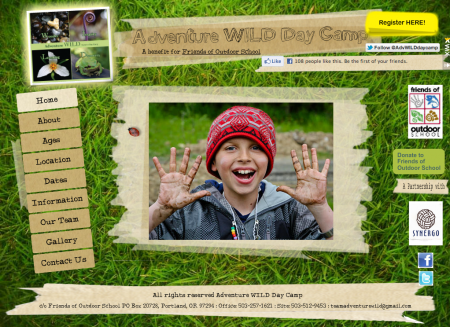 At Adventure WILD Summer Day Camp, we believe that authentic learning takes place when children are able to investigate and interact with the world around them. Nature is our playground and children are encouragedto WONDER, INQUIRE, LEARN and DISCOVER about their surroundings. Through thematic and guided activities, with experienced educators your child will laugh, learn, and make memories to last a lifetime.
The other distinctive aspect of our program is that it is set in the heart of East Multnomah County. As the program was being developed, we spoke with many families who travel into Portland from Corbett, Sandy, and Gresham to go to a summer day camp. Through a partnership with Centennial School District, we are providing a quality day camp option for parents throughout East Multnomah County that is affordable and closer to home.
Not only will your child have an amazing time at Adventure WILD summer day camp, you'll be supporting a part of Oregon's heritage, Outdoor School. Through this unique opportunity, all of the proceeds of summer camp will work to benefit getting students to Outdoor School.
Adventure WILD Summer Day Camp is for students entering in the Fall of 2012, grades PreK (4 years old) - 4th. Camp runs June 25-August 3 at Butler Creek School, 2789 SW Butler Road, Gresham, OR 97080 • PreK (4 years old)/Kindergarten, 9 a.m. to 12 noon, Tuition: $125
Grades 1st- 4th, 9 a.m. to 4 p.m., Tuition: $250 Extended care options are available.
Register TODAY at Adventure WILD.
More about the amazing program we are benefiting:
Since 1966, Outdoor School is a program where students in sixth grade spend a week during the school year in a residential outdoor setting, learning hands-on and authentic science concepts. Through this weeklong program, students are truly able to immerse themselves in their surroundings and community and "unplug" from their technology filled lives.
For many sixth graders, Outdoor School is their first experience where they can live and learn science in the outdoors for an extended time. Unlike any other educational experience, Outdoor School science reaches through the magnifying lens to stimulate and engage students' senses. Science is dashing between the rocks as students search for signs of life, or crumbling between their fingers as soil is examined for particles. These experiences are far more life changing than any textbook lesson can achieve in the classroom.
Not only do sixth graders benefit from this program, high school students are given the opportunity and responsibility to teach and lead the sixth graders through the week of curriculum. These volunteer Student Leaders gain immeasurable skills in leadership, mentorship, teaching and confidence in their ability to make a difference in the lives of others, often returning many times to create a greater impact in the lives of others.
As with many programs in our public schools, funding for this engaging and vital program has begun to dwindle. Our hope is through the proceeds of the Adventure WILD Summer Camp, we will be able to support Outdoor School by offsetting the cost to the districts. For more information regarding the Adventure WILD Summer Camp go to
www.adventurewild.org
or to find out how you can contribute to the Friends of Outdoor School go to
Friends of Outdoor School
.