April 10, 2014 | Portland, OR -- The Intertwine Alliance and the Institute for Sustainable Solutions at Portland State University today announced The Intertwine's first Community Health and Nature Forum.
Scheduled for the afternoon of May 8th, this gathering of environmental and community health advocates will mark the first forum to result from initiative-centered breakout groups that met last month at The Intertwine's sold-out 2014 Spring Summit.​
Intertwine Community Health and Nature Forum
Quick links:
Intertwine Health Initiative (coming soon)

​
May 8, 2014, 

12:30-3:30 pm
Portland State University 

Native American Cultural Center
710 SW Jackson, Portland, OR 
According to Intertwine Program Manager David Cohen, demand for a more formal meeting on this topic stems in part from a surge of new, important research as well as increasing awareness by heath care professionals and environmental groups of the overlap in their interests and goals.
"Community health and nature was clearly the theme to launch our Initiative Forum series, given that some of our partners have already been meeting to move this topic forward in a more strategic way," said Cohen.
"We're planning to make community-driven meetings like this increasingly central to what The Intertwine does," he added.
In the spirit of Collective Impact -- an organizational framework that guides the work of The Intertwine Alliance --participants in the health-focused breakout group will focus on identifying mutual goals and objectives, define opportunities to partner on strategic projects and pool resources.
This free event will feature a keynote address, panel discussion, breakouts and some time afterwards for a no-host networking gathering. 
For more information about Intertwine Initiatives, contact David Cohen.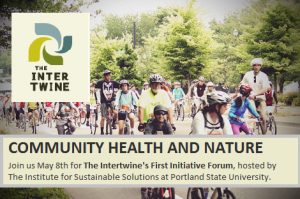 FORUM AGENDA
12:30 pm          Welcome
Jennifer Allen & Fletcher Beaudoin, PSU Institute of Sustainable Solutions
Introduction
Judy Bluehorse Skelton, PSU Indigenous Nations Studies Faculty
Collective Impact and The Intertwine Alliance
Mike Wetter, The Intertwine Alliance
Why this conversation is important: two perspectives
Phil Wu, Kaiser Permanente & Bobby 

Cochran, Willamette Partnership
Framing the Topic
Kurt Beil, National College of Natural Medicine
Connecting Nature to Health Outcomes: Regional Success Stories
Todd Lofgren, Portland Parks and Recreation Department
Teresia Hazen, Legacy Health
Scott Fogarty, Friends of Trees 
Break
Creating a Plan to Move Forward: Group participatory activity
David Cohen, The 

Intertwine Alliance
Group report back
Next steps 
3:30 pm             Closing Comments
4 pm                   Join us for a no-host reception at Rogue Hall, 1717 SW Park Avenue