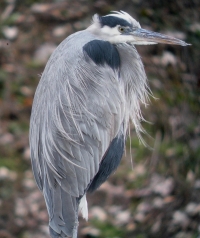 May 26, 2015 | Portland, OR - This Wednesday, May 27, Portland Mayor Charlie Hales kicks off the 29th annual Great Blue Heron Week with a proclamation celebrating the series of field trips exploring herons, their habitat and the other creatures inhabiting the 3,000 square miles of The Intertwine. 
Each year, the Audubon Society of Portland collaborates with nonprofit organizations, private businesses and government agencies to to put on this celebration of Portland's official city bird. The Great Blue Heron is an iconic species that represents the rich diversity of bird and other animal life native to the Portland-Vancouver region. Visit the Audubon web site for a full list of trips and events available to the public.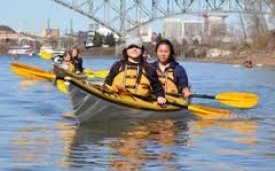 The culminating field tour of the week is the annual Ross Island Regatta, a paddle around Ross Island with views of nesting herons and bald eagles. It begins Sunday, June 7, promptly at 9:30 a.m. at the Willamette Park Boat Ramp. Leaders include Mike Houck, executive director of Urban Greenspaces Institute and Intertwine Alliance board member; Nick Hardigg, new executive director of the Audubon Society of Portland; and Bob Sallinger, conservation director of the Audubon Society of Portland. Bring your own kayak or canoe and life jacket, and plan on a leisurely paddle to the scenic Holgate Channel and circumnavigation of Toe, East, Hardtack and Ross islands. 
For more, read "Birds, Iconic Emissaries of Urban Nature," written by Mike Houck for The Nature of Cities blog. It recounts how the Great Blue Heron was adopted as Portland's official city bird, and looks at birds adopted by other cities, including Berkeley, California's barn owl.