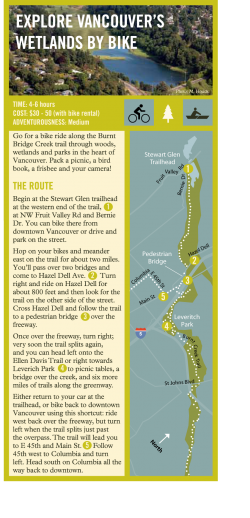 Hot off the press - new Intertwine Adventure Cards now available.
Produced with Travel Oregon, this series of eight cards details some of The Intertwine's best outdoor excursions. Order a few sets to give to your out-of-town visitors, or for yourself!
Each card includes information on:
Places to eat and drink
The best natural areas and activities
Bike or boat rentals
Local wildlife and history
Whether you're looking for a short outing with family or an all day adventure with friends, the Adventure Cards make it easy to show off the best the Portland-area has to offer.
Adventures include:
Exploring Vancouver's Wetlands by Bike
Walking Among Waterfowl at Fernhill Wetlands
Connecting with Nature at Tualatin Hills Nature Park
Paddling and Walking Around Historic Oregon City
Trail Running in Forest Park
Discovering Farms, Streams, and Food Carts by Bike
Bike Riding Along the Willamette River
Playing on the River in Downtown Portland