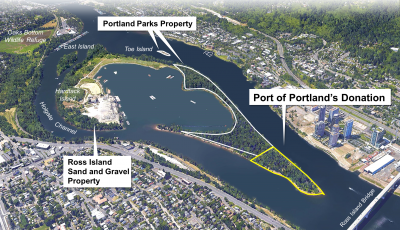 Oct. 21, 2015 | Portland, OR - Today at The Intertwine Alliance Full Summit, the Port of Portland announced the donation of a two-acre parcel on the north end of Ross Island to the City of Portland for restoration as fish and wildlife habitat. 
The two wild acres are contiguous with 45 other acres under the city's protection since 2007. 
The announcement at the Oregon Zoo was made by Portland Parks & Recreation Director Mike Abbate and the Port of Portland's Regional Government Relations Manager Lise Glancy -- and celebrated by the 240 Intertwine Alliance partners at the Summit. 
Ross Island advocates Travis Williams of Willamette Riverkeeper; Bob Sallinger of the Audubon Sociey of Portland; Mike Houck and M.J. Cody of Urban Greenspaces Institute; and Mike Faha of GreenWorks were honored for their long-time contributions to the protection and preservation of the archipelago. 
Read the press release put out jointly by the City of Portland, the Port of Portland, and The Intertwine Alliance. 
For more context, including a brief history of Ross Island, the significance of this most recent acquisition in a decades-long movement, and a bunch of cool photos, read "Reimagining Ross Island," a Twine Wire feature story.