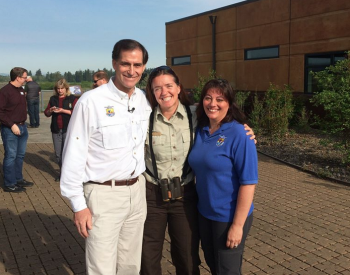 April 21, 2015 | Portland, OR – U.S. Fish and Wildlife Service Director Dan Ashe announced today at The Intertwine Alliance Spring Summit that Portland-Vancouver National Wildlife Refuges will receive $1 million a year in funding to work with The Alliance to engage urban communities and youth in conservation and outdoor recreation. The refuges received this award through a Service-wide competition. 
The Intertwine Alliance, of which the U.S. Fish & Wildlife Service is a founding member, helped obtain the annual funding and will play a key role in implementing it.
"Children across our nation are increasingly disconnected from nature, yet playing outside and learning about the natural world is fun, healthy and builds confidence in kids." said Ashe. "The Portland-Vancouver area is blessed with spectacular outdoor spaces, and a strong network of public and nonprofit leaders committed to getting kids and families outdoors, active and connected to nature. Congratulations to the refuges and their amazing partners for nurturing a movement to foster the next generation of leaders and outdoor stewards while helping people connect to nature in their community – particularly in urban areas."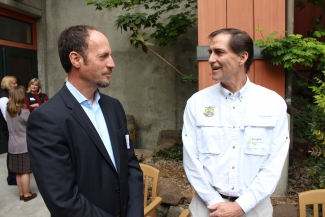 The four refuges that span the Portland/Vancouver area are the Tualatin River, Ridgefield, Steigerwald Lake and Wapato Lake national wildlife refuges. These refuges will work with The Intertwine Alliance to connect area residents with outdoor opportunities.
"The Intertwine Alliance is demonstrating that a collective approach to public and youth engagement, community health, and equity and inclusion yields a much deeper and more sustained impact," said Intertwine Alliance Executive Director Mike Wetter. "In making this investment, the Service is both challenging us to take this work to the next level, and supporting us in doing so. Our job now is to partner with our national wildlife refuges to demonstrate to the nation the power of collaboration and collective action. We are up to this challenge."
Several projects were selected for funding this year, including The Intertwine Alliance's Daycation app, and work to support Alliance partners in becoming more inclusive and culturally responsive. The Daycation app will help residents explore parks and trails in their neighborhoods, and to learn about native plants and animals. 
Click here for a fact sheet about the program.