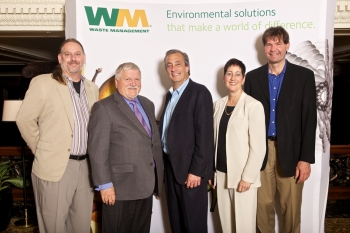 September 10, 2014 | Portland, OR -- Waste Management, recycling advocate and company that manages garbage for the Portland Metro area, has awarded $150,000 to The Intertwine Alliance. 
Waste Management made the award as part of a company commitment to the greater Portland community and to support the many organizations that make up The Intertwine Alliance. Specifically, the award is to help with a goal that many Alliance partners share: connecting residents with nature and cultivating knowledge and stewardship. Funding was earmarked for the Daycation Planner and Native Species App, a groundbreaking new mobile application. 
Part travel guide, part wildlife encyclopedia, the app will be the first of its kind in the country. It will allow users to plan a trip to a trail or park and back, while educating them about wildlife in the region. The Intertwine expects this interactive tool to be a vibrant enhancement to the work of Alliance partners. 
Integrating Trimet's Open Trip Planner with a sophisticated GPS-based map of regional trails, the Daycation App will show user location, how to travel by public transit to a destination, and progress along the trail. (The map will replace the static one on The Intertwine Alliance's website.) Not only will users be able to browse photos of animals and plants commonly found there, they can upload their own. Location-specific messages about sensitive habitat and endangered species will pop up, as will notifications about events taking place in the vicinity.
To make this dream app a reality by spring 2015, The Intertwine is working closely with design firms Frank Creative and Harlo Interactive, as well as many of its partner organizations. 
A big thank you to Waste Management Company for its support of The Intertwine Alliance and its partners.