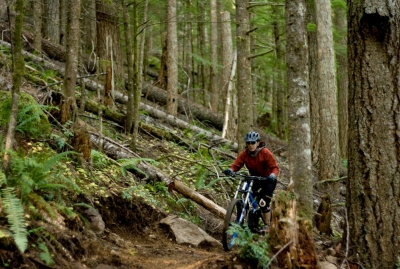 The partially completed Sandy Ridge Trail System is growing by leaps and bounds — providing recreation opportunities for hikers and mountain bikers to explore the foothills of the Cascade Range. Designed and built with assistance from the International Mountain Biking Association, the trail system offers features including bermed corners and jumps that are a fun challenge for all riders.
The trail system, a favorite of off-road biking enthusiasts around the region, recently added several new features and will continue to expand in the coming years. The new features include a bridge over Little Joe Creek and a 2.25 mile addition to Three Thirty Eight Loop that includes technical rock drops and a bypass for less experienced riders. With these new additions, Sandy Ridge now has 6.5 miles of trail. The BLM, working with NW Trail Alliance, the International Mountain Bicycling Association, user groups and local stakeholders, continues to add trails and eventually plans to have a total of over 16 miles of single-track riding trails for a variety of difficulty levels.
Read more on the trail from BikePortland.