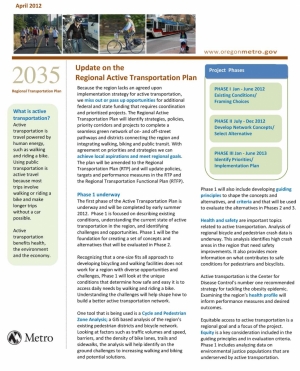 The Active Transportation Plan will identify priorities and strategies for completing the region's principal active transportation network; support local jurisdictions in achieving local aspirations and assist the region in reaching its goals and six desired outcomes. The plan will be developed over an 18-month timeframe and will be finalized by the end of June 2013. The ATP will amend the 2035 Regional Transportation Plan (RTP) and the Regional Transportation Functional Plan (the the plan that implements the 2035 RTP). 
• Phase 1 of the project is underway. Phase 1 will end in July 2012 with an existing conditions report that will identify barriers and opportunities for completing the principal regional network of Bicycle and Pedestrian Parkways and Districts. The analysis of opportunities and barriers will include health, safety and equity.
• As part of Phase 1, Metro is conducting a Cycle and Pedestrian Zone Analysis to better understand the variety of conditions that exist in the region. Factors like traffic speeds and volumes, street and trail connectivity and density, and destinations that attract people walking and riding bikes will be included in the analysis. It will provide a good foundation for understanding barriers in different parts of the region and the untapped potential for biking and walking.
• The project Stakeholder Advisory Committee and Executive Council for Active Transportation met in March and endorsed the project objectives and workplan.
• The next Stakeholder Advisory Committee meeting is scheduled for Thursday, July 19, 2:30-4:30 p.m. at Metro in room 501. The next Executive Council for Active Transportation meeting will be scheduled for late summer.
• For more information on the project, visit www.oregonmetro.gov/activetransport or click on the report to the right for additional details.
The Regional Active Transportation Plan is funded in part by a Transportation Growth Management grant from the Oregon Department of Transportation.