Most outstanding.
The Annual
Force of Nature Awards
recognize efforts made within The Intertwine to advance a robust, region-wide network of interconnected naturals areas, parks and trails.
We need your nominations for 2014
! Winners will be announced at our November 5th Fall Summit.
Meet our two newest partners
. This past month we welcomed the
World Forestry Center
and
Vancouver Audubon Society
to The Intertwine Alliance -- bringing our coalition to a grand total of 124 partners!
Intertwine News
Shutterbugs: it's an Intertwine photo contest!
From now through October, online voters like you are picking their favorite crowd-sourced photos (
send us your best snaps here
). What's that? Fame not your bag? How's this for motivation: every month, the top five winners take home a free pair of KEENS! Help us
spread the word
about our monthly themes, and contact
Kevin
with any questions.
July: Natural landscapes
August: Urban art connection
September: Local park love
October: Faces in nature
Missed our Thursday webinar? Catch the rerun here to learn how Bruce Roll of Clean Water Services makes the connection between wastewater utilities and greenspace leadership. And be sure to check our schedule for next's month's free webinar -- the fourth in this series from the Metropolitan Greenspaces Association.

Kids these days
. Debuting on July 9th, our
first monthly Twine Wire feature
checked in with three outdoor work programs for youth that are showing today's teens some green -- and growing tomorrow's next generation of environmental stewards.
Infinity loop and faith in nature
.
This past month in
Outside Voice
, we heard from bloggers Mark Davison, on a
trail loop that could chart a new path
for NW Oregon, and Jerry Magee of the South Park Unitarian-Universalist Fellowship, on
why his church joined The Intertwine
.
Partner Updates
Bigger. Better. Huggier. Oregon pride is at stake as tree huggers from around the Northwest will gather on July 12th at Hoyt Arboretum - Portland's museum of living trees - to defend our record for the world's largest tree hug. Last year, Hoyt set a new world record with 936 people simultaneously hugging trees for one minute; however, challengers have already attempted to best Portland's record, most recently in Nepal and Scotland. Join on the 12th as we stand tall, hug big!


Parks, renewed. On July 24 at 2pm, Commissioner Amanda Fritz will ask the Portland City Council to refer a Parks Replacement Bond to voters, to fund up to $68 million in critical repairs and major maintenance needs for Portland Parks & Recreation. If approved by the Council, the bond, which would not increase tax rates from what they are today, will appear on the November 4 ballot.

Here to help.
Do you have an outdoor recreation or conservation project that might benefit from some expert advice? The National Park Service can help! NPS's Rivers, Trails and Conservation Assistance Program (RTCA) is
accepting applications for planning assistance
until August 1st.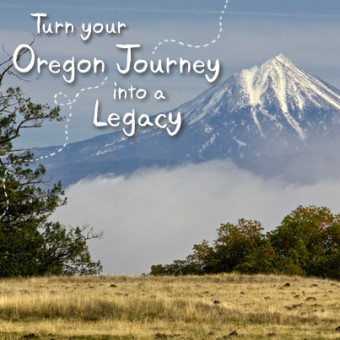 Crowd-sourcing philanthropy. Announcing the Oregon Travel Philanthropy Fund -- a Travel Oregon initiative and the first statewide program of its kind! Check out the seven restoration projects that OTPF hopes to fund.


Island time. Sauvie Island Center's 6th Annual Barn Dance & Barbecue is scheduled for Saturday, July 26th on the picturesque grounds of Howell Territorial Park and the Sauvie Island Organics farm. Pack your picnic blanket or camp chair and get your tickets now!

More picnics in paradise! On Sunday, July 27th, join the Friends of Columbia Gorge for an oak-shaded potluck just north of Steigerwald Lake Wildlife R
efuge. Munch along to the strains of live music -- including the Johnny Cash tribute band Counterfeit Cash -- and learn how the Friends' Land Trust works with private owners to preserve this beautiful meadow.
Do you prefer personal flotation devices over dry land picnics? If so, you're in luck! Also on Sunday the 27th, participants in the 4th Annual Big Float launch from Poet's Beach and paddle down the Willamette to the take-out (and post-float party) at Tom McCall Bowl. Register here.

Maps, plans, and pie. On July 30th, Metro's Annual Trails Fair takes it outside with guided tours, the unveiling of a 2014 regional trails map, and over 40 booths from trail providers across The Intertwine. Oh, and also, pie has been promised!
August gathering. Come Aug. 14th, you'll find many of our partners at Leach Botanical Garden, partying genteelly at the Environmental Education Association of Oregon's Summer Soiree! Get your tickets here.

Plant off! Starting in August, four teenage teams across The Intertwine will launch an exciting campaign to see who can rally the most tree-planters for an October "PLANT OFF." All summer long, our teen teams will compete furiously to recruit participants for the big day, using promotional tools like social media, TriMet advertising, KEEN footwear, and Moda-donated Blazer game tickets. This brand new Intertwine project is funded by the National Fish and Wildlife Foundation and coordinated in collaboration Clean Water Services, Friends of Trees, Groundwork Portland, Metro, the National Park Service, and the Oregon Human Development Corporation.