Leaders and LEEDers.
Our five newest partners really make the grade. Please join us in welcoming the
Mt Adams Institute
,
Urban Nature Partners PDX
,
Northwest Youth Corps
, the
Center for Earth Leadership
, and
Elixir Environmental
.
Clark County conclave
. Do you see a future where Intertwine partners in Southwest Washington regularly collaborate on big projects both stateside and with their Oregon neighbors? Then SAVE THE DATE for our
June 19th Connecting Clark County Summit
. Please contact
David
for more information.
Partner exclusive!
Primary contacts for our partner organizations should look soon for their invitation to our
June 12th Annual Partners Meeting
. For more information about this intimate networking event, please contact
Irene
.
Wow, sold out!
Thanks to an early run on registration, tomorrow's
May 8th Community Health and Nature Forum
is set to exceed capacity at PSU's Native American Cultural Center. Missed the window? Never fear; tomorrow's forum is the first of many planned forums.
Intertwine News
Go time for green time research!
Today in
Outside Voice
, we hear from Legacy Health's Teresia Hazen (a speaker at tomorrow's Health Forum), who shares the story of the hospital's ground-breaking
new research on therapy gardens
.
Blogs on bulblets, branding, and the legacy of Bill. Earlier in April, Outside Voice featured Michael Karnosh of the Confederated Tribes of Grande Ronde on why the camas is more than a flower; Frank Creative's David Karstad on how to sell sustainability without selling out; Ken Pirie of Walker Macy on unlocking Willamette Falls; and Catherine Mushel of Portland's Urban Forestry Commission on legacy -- or, what would Bill Naito do?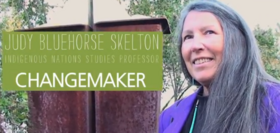 Most outstanding. On April 11th, our founding board member Judy Bluehorse Skelton received the Oregon Indian Education Association's Outstanding Teacher of the Year Award at OIEA's annual conference in Warm Springs. Bluehorse Skelton, who is Nez Perce and Cherokee, is Portland State University's Senior Instructor in Indigenous Nations Studies.

American Trails heads to Portland
. The Intertwine Alliance and Metro have joined the national sponsors bringing American Trails'
2015 International Trails Symposium
to Slabtown next May. The multi-day event will address "every aspect of trails, greenways, and blueways." We'll certainly keep our partners in the loop as plans develop.
Partner Updates
Our water, our vote. With Election Day less than two weeks away, Portland voters will soon decide the fate of the City's Water Bureau and Bureau of Environmental Services (BES). Eleven of our partners are on record opposing Measure 26-156, which would place control of these bureaus in the hands of a privately elected board. Read more about why these partners are saying no to the Measure -- and don't forget to mail that ballot!


Votin' videos. Get hydrated for election day with some H2O-centric videos --courtesy of our partners Clean Water Services (CWS) and Water Environment Services (WES) of Clackamas County:

Beer for a good cause? That's a no-brainer! From 5-9 p.m. tonight (May 7th), Migration Brewing will donate a frothy 10 percent of profits to Urban Nature Partners PDX. Show up to learn about UNP-PDX's summer mentoring program and other fun ways to get involved -- all over a relaxing pint (or two).


Adopt-a-River! This month, Columbia Riverkeeper will conduct three Adopt-a-River volunteer trainings across The Intertwine: May 8th at Portland's Metropolitan Workforce Training Center; May 12th at Mount Hood Community College in Gresham; and May 14th at Columbia Riverkeeper's Hood River office (all trainings from 5:30-7:00 pm). RSVP by email or call (541) 387-3030.
Spring blooms bedazzle. Wander into the World Forestry Center May 16th to 18th and behold "Inspirations 2014" -- a Garden Club of America major flower show staged by the Portland Garden Club. With the theme "Urban Treasures: A Celebration of Portland Parks," we're ready to stop and smell the roses (and more!).


The practice of hope. On May 17th in the Mercy Corps building, the Center for Earth Leadership offers a special workshop on empowering Intertwine residents to become change agents in forging a sustainable culture. Catch a sneak peek in this TEDx talk with center founders Dick and Jeanne Roy.

And just a few reasons to attend BES's May 21st Ecoroof Symposium:
Keynote speaker Anne Whiston Spirn -- the renowned author, teacher, photographer, and landscape architect;
The Symposium's excellent roster of experts and practitioners;

Continuing education credits (event is approved through ASLA, AIA, OLCB, and more); and

The Vendor Showcase - Dozens of greenroof companies and organizations will be on hand to talk shop.