Blogs, big tents, and cultural tribes
By Ramona DeNies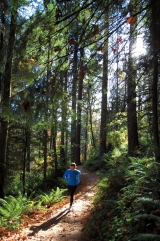 Most Sunday mornings, I lace up my trail shoes, strap on my Nutcase, and pedal my rusty Peugeot across the Broadway Bridge towards Forest Park. Over coffee with my motley running crew -- scientists and beekeepers, grocery clerks and retirees -- we leisurely debate the day's route: Wildwood or Maple? 53rd or Upper Saltzman? A few hours later, begrimed and wheezy, we again debate: Bridgeport Brewery or Deschutes? Pyramid or Rogue?
But more than earning my suds, and more, even, than enjoying the lush morning hush of these trillium-framed runs, I treasure this Sunday tradition for expanding -- to borrow Mickey Fearn's phrase from last week's Our Common Ground Dialogue on Race and the Environment -- my "cultural tribe." From the shared love of an outdoor run, strong friendships have sprung, along with startling ideas, empathy, and new paths.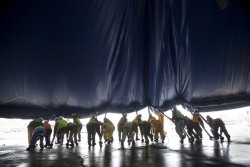 On June 12, here at Intertwine HQ, we launched a new tradition: the Wednesday publication of this blog, Outside Voice. With weekly guest writers like Mickey, above, as well as arborist Todd Prager, conservation educator Traci Price, extreme kayaker Sam Drevo, and so many others to come, the aim of Outside Voice, like The Intertwine Alliance itself, is to enhance the canopy under which we gather, celebrate shared loves, and debate our next steps.
We're pleased to report, just six weeks in, that Outside Voice is taking root. Web traffic is growing, and we've fielded many comments, pro and con, responding to our writers' stances. With organizing themes like Fit City and Trail Watch, Biofiles and Family Green, Outside Voice shows early signs of becoming the vital forum we envision. After all, with over 100 Alliance partners, our coalition clearly has much to discuss.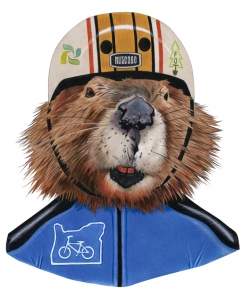 As The Intertwine's cultural tribe grows, our big tent will accommodate your many voices. In the past year alone, we've added multiple new Intertwine community platforms, from 2013's Our Common Ground Report and promotions campaign, to Outside Voice and dialogues, like last week's, that bring the conversation face-to-face.
But whether these platforms work -- to both challenge and unite our diverse community, with partners spanning healthcare and sportswear, architecture and education, park groups and public utilities -- well, that depends on you. Are you ready to chime in, carry the conversation forward, celebrate both the shared loves and split hairs that characterize our cultural tribe?
If so, lace up. We'll meet you here next Wednesday. And bring your nutcase...