110 years later, Terwilliger Parkway celebrates a new milestone in the architect's plan
Cathy Turner,
September 24 2014
Invitation To:
Mr. John Charles Olmsted, Olmsted Brothers Landscape Architects
For:
Dedication of Eagle Point addition to Terwilliger Parkway
When:
10:00 am Saturday Sept 27, 2014
Where:
At the crest of Eagle Point

Dear Mr. Olmsted,
It's been over 110 years since you proposed a scenic network of parks and parkways throughout Portland. Your plan was so far-sighted that we're still working to complete it! You should enjoy attending our dedication of the city's recent addition of Eagle Point to Terwilliger Parkway.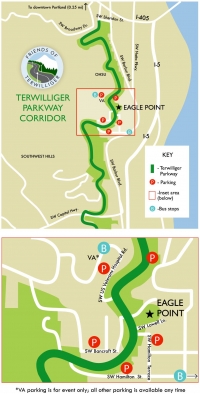 Your 1903 plan, which referred to Terwilliger Parkway as the South Hillside Parkway, advised the city to complete it "as soon as possible, lest its course be interfered with by the erection of dwellings and by rising values of the land near the city." Fortunately, we acted relatively quickly, creating the initial parkway within 10 years of your report.
In fact, although parts of your system are in place throughout the city, Terwilliger Parkway is the only one of your west-side parkway recommendations built and maintained for public use consistent with your vision. The 3 1⁄4 miles from Sam Jackson Road to Barbur Boulevard still curves gracefully through a naturally forested area punctuated by occasional panoramic views.
As you foresaw, Portland grew, and our population and traffic make us ever more appreciative of this scenic corridor. On any day you'll see the bike lane and pathway in active use for serious training, casual recreation, and both bike and pedestrian commuting. As your plan envisioned, the benefits extend beyond the Parkway itself through connections to our larger network of natural areas.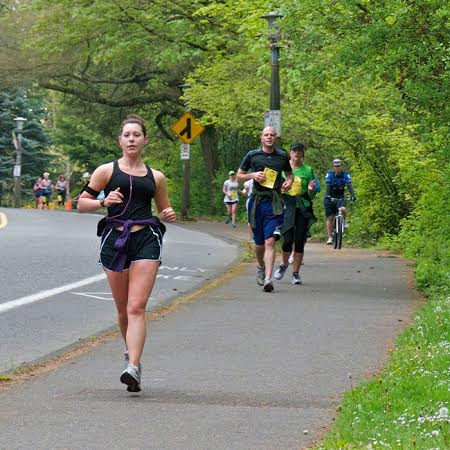 Downtown's South Park blocks begin just a few blocks from the north end. Then, the Parkway connects to trails in Marquam Nature Park and George Himes Park and to several SW Trails routes. Beyond the Parkway's south end, Terwilliger continues as a residential street with sidewalks but returns again to a bike and hike paths through forest at Tryon Creek State Park.
Terwilliger's popularity helps us carry on your original vision, embodied in the city's Terwilliger Parkway Corridor Plan and Design Guidelines. Weekends often find dedicated volunteers working to remove invasive species threatening to overwhelm native forest plants. And strong supporters of the original goals seek practical solutions to potential conflicts – actively participating in City hearings and planning meetings, and working with partner organizations and local employers. So we hope you can attend our Eagle Point celebration, Mr. Olmsted.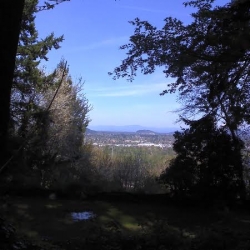 There will be time for general conversation plus presentations on Eagle Point's importance, future, and history, by Parks Commissioner Amanda Fritz, Parks Department Director Mike Abbaté , architect and historian Bill Hawkins (who may have some interesting questions for you!) and Friends of Terwilliger President Anton Vetterlein.
To others reading this, please also join us Saturday, September 27 at 10:00 am. Check the Friends of Terwilliger website for location, schedule and parking options. In keeping with the active recreation nature of the Parkway, consider making the event the endpoint of a morning hike or bike ride. (We'll have bike racks on site.) Form your own group or link up with the SW Trails folks at Wilson High School at 9:00 a.m.