Robert Weinman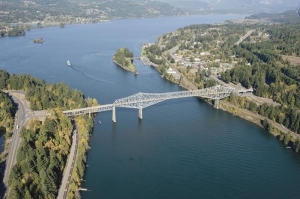 Some wild areas refuse to be tamed. Cascade Locks, a small, quiet city nestled in the heart of the Columbia River Gorge National Scenic Area, is one: a place where even the mighty Columbia River bowed to the forces of nature.
What many in The Intertwine don't realize is just how close they are to Cascade Locks, home of the massive landslides that, ​one thousand years ago, stopped the river temporarily to create a "Bridge of the Gods."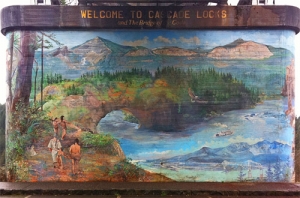 Native American legend has it that with this land bridge, the gods could cross the river without getting their feet wet (because no one likes wet feet, apparently).
Native Americans have gathered at Cascade Locks for thousands of years, and the Warm Springs, Yakama, Nez Perce, and Umatilla treaty tribes are still very active and influential in the region. But now a new group is showing up: outdoor recreation fans drawn -- by design -- to the wild nature of Cascade Locks.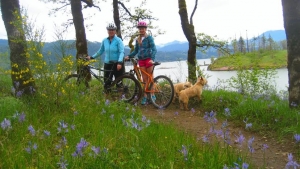 In 2011, the City of Cascade Locks adopted a vision statement ​and economic development strategy ​aimed at balancing recreation with commercial and industrial business development. In 2012, a recreational trails plan called "Connect Cascade Locks" was put into action, with recommendations ranging from wayfinding signage and bike racks to fostering a locally-based trail stewardship group that could help build and maintain new trails in partnership with the US Forest Service.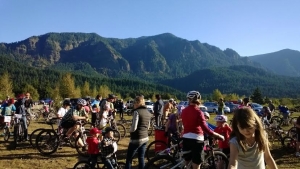 It's no wonder that Cascade Locks sees new value in its proximity to the wild. Multiple hiking trails converge right here, including the legendary Pacific Crest Trail, which drops four thousand vertical feet over nine miles to cross the Columbia River at the iconic steel Bridge of the Gods, built in 1920. ​There's also a growing system of nearby mountain bike trails, which now host events like the Short Track Mountain Bike Championships, Dimwits With Bright Lights Night Rides, and Take a Kid Mountain Biking Day.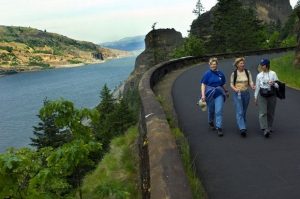 For those seeking smoother terrain, the newly restored nearby Historic Columbia River Highway State Trail conducts bikers and walkers from Troutdale to Cascade Locks without using Interstate 84.
And now, in close partnership with The Columbia Gorge Racing Association, Cascade Locks has transformed itself into one of the top sailing locations in North America, promoting world-class regattas and clinics for small boat sailing.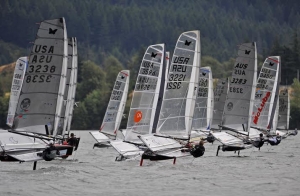 With the addition of a series of new water trails ranging from beginner to expert, kayakers and paddlers can now weave their way through protected coves, secluded lakes, or through the challenging whirlpools and eddies of the original locks.
Outdoor recreation is already paying off here, with new businesses including a waterfront brewery as well as a fresh fish market run by a local family from the Confederated Tribes of the Umatilla Indian Reservation. Other businesses are expanding, from an ice cream stand to a restored ale house and the famous Charburger Restaurant.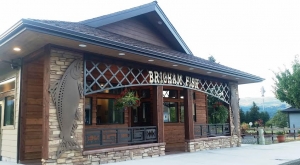 And some of the plan's more ambitious features are just about to set sail.
"One of our most ambitious projects is the proposed riverfront beach expansion," said Holly Howell of the Port of Cascade Locks.
"For the past five years we have worked with the Army Corps of Engineers,  Oregon Department of State Lands, the four Columbia River Treaty Tribes, and the Columbia River Inter-Tribal Fish Commission to design and develop a beach that will increase recreation and tribal fishing access while improving natural habitat," Howell added.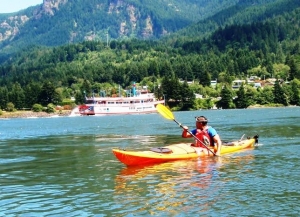 After a day kayaking and standup paddling on the river, one recent visitor to Cascade Locks -- Moses Winston of New Mexico -- sat down at Thunder Island Brewing, the new microbrewery, and offered this apt toast to the setting sun:
"Find your wild, refuse to be tamed, come to Cascade Locks."