By Channbunmorl "Chom" Sou,
November 4 2015
"I got to hang with people I would have otherwise never hung out with. I became more in touch with nature and conservation."
 - Alondra Cortez, Momentum Alliance youth participant in the Northwest Youth Corps summer internship program

Momentum Alliance youth are undocumented, immigrant, indigenous, LGBTQ, gang-affected, HIV positive and low-income. They are youth of color; youth with disabilities; youth transitioning from foster care, homelessness and incarceration; youth who have experienced war, domestic violence, sexual assault and abuse; teen parents and allies.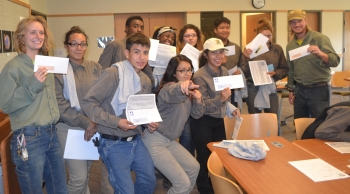 More than 45 percent of us report a history of trauma. Not coincidentally, just over 45 percent of us also report struggling with depression and anxiety. We need time and opportunities in nature, and yet there are tremendous obstacles for many of us, from not feeling welcome in public spaces to not having the transportation or gear necessary to access this amazing region.
So when, after making a presentation at The Intertwine Alliance Summit last fall, Momentum Alliance received requests for partnerships from conservation organizations seeking to diversify their participants, we were eager for the opportunity. We chose to pilot a partnership with Northwest Youth Corps (NYC), a group that brings extensive expertise in outdoor youth education and conservation through its intensive five-week paid summer internship program. That NYC offered paid internships made the partnership mutually beneficial. Just as important was NYC's desire to learn from Momentum Alliance about what would work best for our youth, and NYC's willingness to make adaptations to its programming to increase inclusivity and the likelihood of success.
Bringing our track record of engaging and coaching diverse youth, Momentum Alliance connected 10 underrepresented young people to create a summer crew. Using our Momentum Alliance model of coaching and relationship building, we helped create an inclusive and strong team environment.
As one of the summer projects, the crew worked for Oregon State Parks along the Banks-Vernonia State Trail, doing what the industry calls "brushing," which means widening the corridor along a trail so that pedestrians (or, in this case, cyclists and equestrians) don't collide with overgrown or low-hanging vegetation and tree branches. Youth learned to use tools like the mid-reach or "dragonslayer" saw and to spot their peers for safety, all the while spending more time in nature than any of them had before.
Our program completion rate was 100 percent, with an attendance rate of 90 percent! This was also one of Northwest Youth Corps most diverse crews to date, with all 10 participants being youth of color and 6 of 10 young women.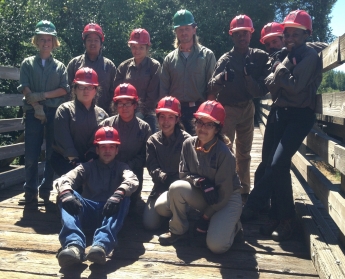 The Momentum Alliance Crew was "one of my best crews ever," says Crew Leader Henry Hays-Wehle. "I learned a lot about how best to support youth from underrepresented communities to succeed in outdoor education and career exploration." 
Metro Nature in Neighborhoods provided critical funds for food, gear, bus passes and Momentum Alliance Coaches who continue to work with these 10 youth year-round on their health, education, career and leadership goals through Summer, Winter and Spring Break Camps, monthly activities and individualized coaching.
NYC and Momentum Alliance are working together again to fundraise for a second youth crew in 2016. Momentum Alliance is also exploring how best to expand our capacity to work with other eager organizations on such partnerships in the future.
---
About Momentum Alliance:
Momentum Alliance is a youth-led nonprofit, with experienced coaches, whose mission is to inspire youth to realize their power individually and collectively and to mentor future social justice leaders. We exist in response to demand by youth (more than we can yet meet) to reduce isolation and prejudice among diverse youth; set and achieve health, educational, career and leadership goals; and find collective opportunities to affect public policy and systemic changes that get at the root causes of the obstacles we, our peers and our communities face. 
Momentum Alliance has won the Bank of the West's Innovation in Philanthropy Award and the Portland City Club Civic Leaders Award for inclusiveness of diverse youth in the public policy process. Momentum Alliance produced a video for Metro on equity in nature and transportation this year to help role out its equity plan. This and other videos can be seen at: momentumalliance.org.