East Multnomah gears up for a new kind of tourism
By Alison Hart,
October 2 2013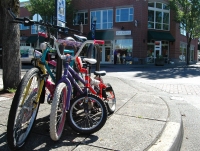 I stopped riding my bike about 15 years ago, due to a busy career and parenthood in San Francisco coupled with a strong disinterest in riding up hills. When I moved to Portland three years ago, I told friends who pestered me to ride that I wasn't comfortable biking in traffic. Frankly, I could think of many other ways to exercise, socialize, and get outside. Biking just seemed like too much discomfort to deal with. But July of this year, I finally acquiesced, riding the Springwater Trail with a friend between Gresham and Portland.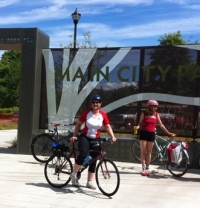 Getting me back on my bike wasn't simply the result of peer pressure. As CEO of the Gresham Area Chamber of Commerce, I'd committed to Cycle Oregon's annual summer policymakers' ride up in the Gorge – and I needed to know I could make it. Plus, I knew I'd be needing plenty of first-hand experience as we gear up for the new East Multnomah Bicycle Tourism Initiative.
The Initiative, launched in July and coordinated through the Chamber, engages a diverse coalition of East Multnomah County cities, public agencies, nonprofit organizations and private businesses to leverage resources with the purpose of increasing bicycle tourism for economic development and job growth. We anticipate that this project could result in:
A bicycle-friendly business certification program;
Maps, itineraries, and online tools to help people visit and explore the region;
Improved infrastructure, such as bicycle parking and wayfinding signage;
Promotion of signature routes or trails; and
Larger and more frequent bicycling events.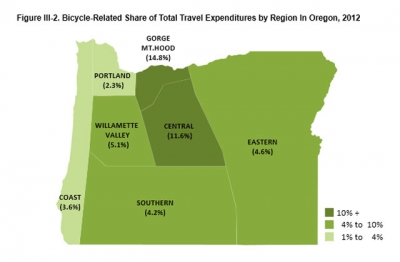 Why are we focusing on bicycle tourism? A recent report by Dean Runyan shows that bicycle tourism brings $400 million to the Oregon economy. And according to the report, Travel Oregon's Mt. Hood/Gorge region – of which East Multnomah County is a part – brings a higher percentage of travelers participating in cycling activities than all other regions of the state, with $46 million spent annually on bicycle-related travel. This tells me that East Multnomah County is poised to shape the future of our region as a premiere bicycle tourism destination (and you can help!*).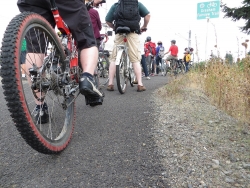 Since my ride on the Springwater Corridor, I'm happy to report that my bike hasn't returned to hibernation – not after the accomplishment I felt pedaling 25 miles of the Historic Columbia River Highway and State Trail between Corbett and Cascade Locks during August's policymakers' ride. In mid-September, just before the rains came, I rode from downtown Gresham to Edgefield with policymakers from Gresham, Fairview, Wood Village, and Troutdale, traveling the Gresham-Fairview Trail and other existing and planned routes through east Metro-area cities.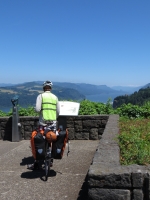 These first-hand experiences have shown me the enormous potential we have here in East Multnomah County to connect the routes we have, such as linking the Springwater Trail to Troutdale, and the Gresham-Fairview Trail to Marine Drive. But they've also given me a personal reason to see our Initiative succeed. Now that I've rediscovered the afterglow of biking with friends and colleagues – celebrating our efforts afterward over excellent bites, drinks, and service – I'm looking forward to inviting friends to join me on some of the new itineraries that come out of the Bicycle Tourism Studio Workshop. They'll be so surprised when I suggest a ride!

* In November, the Gresham Area Chamber will host two Bicycle Tourism Studio Workshops in partnership with Travel Oregon. Please join us November 13 from 9 a.m. to 4 p.m. at McMenamin's Edgefield or November 14 from 9 a.m. to 1 p.m. at the Corbett Fire Hall. Visit our project webpage to register for the workshops, learn more about the Initiative, or to get in touch with Heidi Beierle, our Project Coordinator.