Ramona DeNies,
October 22 2014
A Twine Wire Feature Story
October 21, 2014 – With November elections just around the corner, voters across The Intertwine are weighing in on issues ranging from GMO labeling to gun control.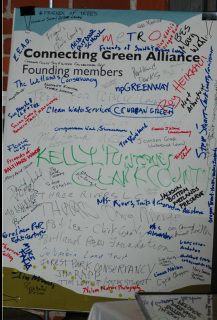 It's also here at the ballot box where we decide the future of our parks, trails, and natural areas. Across our four-county region, parks districts and departments routinely contend with shrinking budgets, expiring bonds, and shifting politics.
When big change is needed – redistricting, large acquisitions, major maintenance – voters are asked to step in.
Sometimes, we support that change, as with Metro's natural areas maintenance levy, passed last year with 54 percent approval. Sometimes, we're hard to convince; in 2012, voters in Vancouver rejected the proposed formation of a metropolitan parks district with dedicated funding.
We know that one-off conservation campaigns take an excess of time, capital, and energy – resources we quickly muster across our 32 jurisdictions that deplete just as fast after Election Day.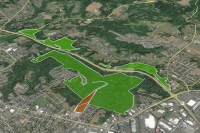 The Intertwine Alliance was created in part to sustain the momentum of these campaigns and achieve even bigger change for our urban nature. Now just over three years old, The Intertwine Alliance, with its 125-plus partners, represents a formidable concentration of political will. How shall we focus this park-changing power?
To launch this big-landscape conversation, we look to our recent past, our present – where voters will soon decide significant actions in North Clackamas and Portland – and our near future, which will be written, we hope, by partners like you.
THE PAST: Brushing up on Intertwine Political History
Before The Intertwine, there was Esther Short, and John Charles Olmsted.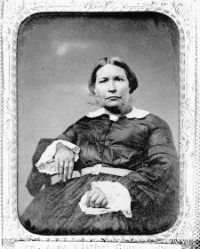 In 1855, Washington Territory, still thirty years from statehood, received a gift from a remarkable pioneer woman. Just eight years prior, Esther Short, along with her husband and ten children, had homesteaded a wilderness property near Fort Vancouver.
But with the young town of Vancouver soon booming all around her, Esther wanted parkland, and donated a four-block plot to create what is now Esther Short Park – the oldest public square in Washington, and one of the West's oldest parks.
Across the Columbia River nearly fifty years later, Portland's newly formed Parks Department invited a landscape architect from New England to map a more beautiful vision of their rapidly industrializing lumber town.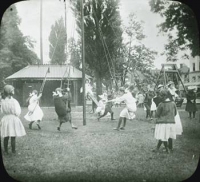 The ambitious report submitted by John Charles Olmsted in 1903 established an early framework for what, in time, would become The Intertwine.
John Charles' report set forth 18 best practices in park-planning and recommendations for dozens of key landscapes to preserve, including Mount Talbert, Johnson Creek, and what would later become the 40-Mile Loop.
In many ways, we're still fulfilling Olmsted's vision – at Rocky Butte, for example, and along Terwilliger Parkway. In other ways, we've channeled our growing sense of regional identity into projects far more ambitious than he conceived, as outlined in the Metropolitan Greenspaces Plan, the Portland-Vancouver Bi-State Trails Plan, and The Intertwine's Regional Conservation Strategy.
BY THE BALLOT: a select Intertwine history
1988 - In Gresham, the passage of a $4.5 million bond sets a local mandate for new parks.
1990 - Gresham voters approve an additional $10 million for parks acquisition.
1992 - Metro Bond Measure 26-1 fails; The Oregonian advises "try again."
1994 - Portland voters pass a 20-year Parks Replacement Bond (now up for renewal).
1995 - Metro voters pass a $135 million bond, with 63 percent approval, for natural area acquisition.
1998 - Portland voters narrowly reject a parks levy.
2002 - Portland voters says yes to Ballot Measure 26-34, a $50 million five-year levy.
2006 - Metro voters pass a second natural areas bond, allowing Metro to purchase a total 13,000 acres of public wilderness.
2010 - Tigard voters approve Measure 34-181, a $17 million bond for parks and open spaces.
2012 - Vancouver voters say no to creating a Greater Vancouver Metropolitan Parks District.
2013 - Metro voters approve a five-year local option levy, providing $10 million a year for  natural areas maintenance and education.
2014 - ?
Planning is one thing; implementation is another. At current rates of investment, Intertwine Alliance Executive Director Mike Wetter anticipates it will take 190 years to complete the trail network in the Bi-State Plan.
"To me, this number highlights that unless we do something different, achieving our vision is going to take longer than any of us would like," Wetter says.
"Ballot box success has demonstrated that voters support this topic.  Now we need a sustainable funding solution that will allow the vision to be realized."
By support, Wetter refers to a string of closely-spaced initiatives that date to 1988, when Gresham voters approved a $4.5 million parks acquisition bond measure. A $10 million bond to protect and pay for these lands – a first for the region – followed in 1990.
The next few decades brought more bond measures and levies. In 1995, voters across three counties passed the $135 million Metro Open Spaces Bond (Measure 26-26) with 63 percent approval.
Nine years later, in 2006, Metro area voters passed a land acquisition bond that aimed to improve protections for fish and wildlife as a companion to Metro's Title 13 policies.
In 2008, Beaverton voters approved Measure 34-156, a $100 million bond to develop trails, preserve natural areas, and improve parks and facilities across the Tualatin Hills Parks and Recreation District (THPRD) – itself created by vote in 1955, and now the state's largest special parks district.
And in Tigard two years later, voters approved Measure 34-181, a $17 million parks and open space bond measure that has helped to facilitate the purchase of parkland at locations including Sumner Creek, the downtown Fields Property, and Bull Mountain.
Of course, along with these many positive steps, Wetter notes, have been Election Day disappointments. Among them, a failed 1992 Metro effort, timed with the adoption of the Metropolitan Greenspaces Plan, a rejected 1998 City of Portland bond measure, and the 2012 dismissal of Vancouver's proposed parks district.
"We've made progress over the last few decades, even in very difficult economic times," says Wetter. "Now that we're seeing some economic recovery, it's easier for voters to respond positively to support our urban wilderness."
THE PRESENT: New Chapters in Greenspace Action
In just two weeks, Intertwine voters in the City of Portland and Clackamas County will decide on two possible next steps for the evolution of The Intertwine.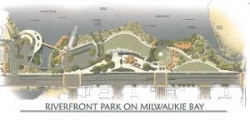 Will Portland voters renew a bond to fix up their parks? Thirty miles southeast, will residents in North Clackamas create an independent Parks and Recreation District, loosely modeled after Beaverton's pioneering THPRD?
Each time, the politics of parks are different. Here's what two Intertwine communities are currently debating – and why campaign advocates hope once again, they'll choose to say yes to parks.
Independent living: North Clackamas and Measure 3-451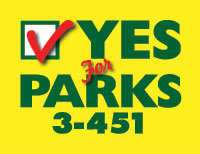 "North Clackamas residents highly value wildlife habitat and the quality of life that comes from parks," says Eleanore Hunter, an Oak Grove community activist and chair of the Yes for Parks 3-451 campaign.
"Our population has grown to 116,000 people, but our parks department has not had a funding increase for 25 years," Hunter adds. "People have been clear that they want more parks, more natural areas, more programming for seniors and teens. It's time to invest in our community."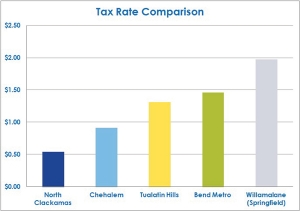 If passed, Ballot Measure 3-451 would entail an annual 89-cent tax rate per $1,000 in assessed property values for homeowners in the 36-square mile district. This funding – still the lowest rate of any parks district in the state, says Hunter – would finance an independent North Clackamas Parks and Recreation District (NCPRD) managed by a new, publicly-elected board.
"North Clackamas has a great diversity of opinions, but we've received tremendous support," Hunter says. "There are very pragmatic reasons to vote yes for parks: increased property values, recreational opportunities, quality of life, and a third space for communities to grow. Everybody benefits."
Protect what you have: Portland Parks & Recreation and Measure 26-159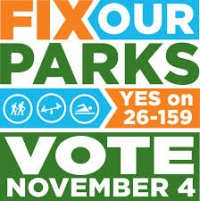 In Portland, another energetic campaign has been raking up support for the city's underfunded parks maintenance programs through Ballot Measure 26-159, the Parks Replacement Bond.
According to Portland Parks & Recreation (PP&R), $365 million dollars will be needed over the next decade for major repairs and maintenance, from fixing trails and replacing aging playground structures to refurbishing 12 of the city's 13 public pools.
But with PP&R's budget derived entirely from the city's squeezed general fund, these higher-cost items may never be addressed.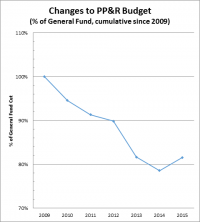 "There's almost no money set aside for fixing major things, but the needs aren't visible to the average citizen," says Nick Hardigg, Executive Director of the nonprofit Portland Parks Foundation. "Only when something people love gets shut down do people realize there's a systemic problem here."
Hardigg says the eye-opener for Portland Parks Commissioner Amanda Fritz came this past spring, with the condemning of downtown Couch Park's deteriorating wooden play structure. Recognizing the lack of funds available to PP&R for urgent repairs, Fritz advocated with City Council to bring Parks Replacement Bond Measure 26-159 to the November ballot.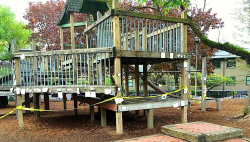 For Portland voters, the cost of passing Measure 26-159 is literally none: the measure entails no tax rate increase, but rather a continuation of current rates as a twenty-year-old expiring parks bond is renewed.
"The only way we have to bring substantial relief to parks is through ballot measures," Hardigg says. "But when funding comes in unpredictable chunks, it can wreak havoc on maintenance and planning."
THE FUTURE: Large Landscapes take Big Picture Thinking
Squeezed general funds. One-off ballot measures and levies. Revenue dependent on fluctuating property taxes and shifting politics. Without longer term solutions for parks agencies across The Intertwine, voters can expect to see frequent campaigns like Measures 3-451 and 26-159.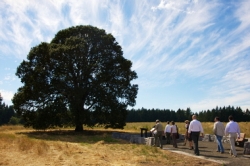 "Why bond measures and levies? The answer goes back to state law," says Heather Nelson Kent, Grants Program Manager for Metro's Natural Areas Program.
"Across the nation, sales tax is one of the top sources of funding for programs like ours. Obviously that's not an option for us here in Oregon," Kent adds.
So what other tools can we access here in The Intertwine? From establishing independent parks districts and private conservancies, to seeking gas taxes, tax increment financing and urban renewal funds, a wide range of funding tactics have been employed by parks agencies across the nation (and their friends).
By necessity, we have to be that savvy, says former PP&R Director Zari Santner.
"When there are deficits in other general fund spending, parks budgets are looked at, and are often reduced, to fill the gaps," says Santner. "Parks departments have to be opportunistic."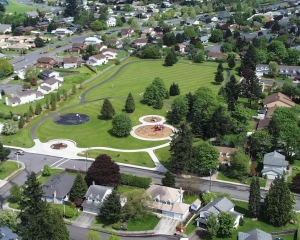 But what about even larger landscape thinking? In Clark County, where voters rejected a parks district two years ago, long-time environmental advocate Jean Akers maintains hope that someday a regional collaborative approach might unite the county's half-dozen parks jurisdictions.
"We had a blue ribbon committee in 2010, and they all acknowledged that their funding wasn't stable, that parks were always ready to be cut. But they weren't ready yet to take up a regional approach. They were in maintenance mode," Akers says.
"Now that property values have picked up, maybe the pressure is less," she adds.
Akers isn't the only conservationist who hopes that the climate for political collaboration, and voter support, is starting to improve.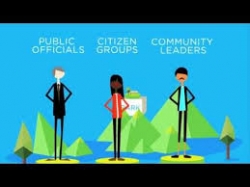 Intertwine Alliance Board member Don Goldberg, a Senior Project Manager with the Trust for Public Land and veteran of many local conservation campaigns (several here mentioned) says that even with diminishing federal and state funds for public services, Intertwine communities still rally reliably for parks.
"Every community has a threshold for how much they're willing to tax themselves. As communities take on more, some that normally wouldn't blink about funding parks and trails started to question it. They're overburdened."
"Having said that," Goldberg adds, "we're incredibly fortunate to live in an area that's highly supportive. The goal is to have all children live within a ten minute walk of a park, trail, or natural area."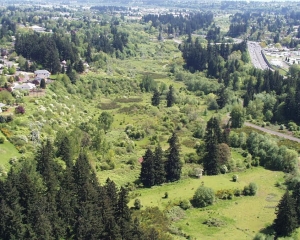 For Intertwine Executive Director Mike Wetter, the rapid growth of The Intertwine Alliance (now 125-plus public, private, and nonprofit partners and counting) is evidence that large landscape thinking – backed by sustainable funding – is more possible now than ever before.
"Over decades, so many have worked to bring the vision of Olmsted and his precursors to life," Wetter says. "To me, the momentum we're seeing now means we're finally ready for big things here in The Intertwine."
On November 4th, we'll once again test that momentum, as voters decide what's next for The Intertwine.