Saturday, April 4, 2015 - 10:00am
Ridgefield National Wildlife Refuge
The Plankhouse is a very popular spring and summer destination, educating and inspiring visitors from all over the Nation and even the World.  Attend this training to gain skills to lead the public through this traditional Chinookan-style Plankhouse.  
Docents work on the weekends with visitors and/or during the week with school groups.  Topics include culture, history, and the everyday life of the indigenous people of the lower Columbia River.  
For more information contact the Plankhouse Coordinator Sarah Hill at 360-887-4106 or by email at Sarah_Hill@fws.gov.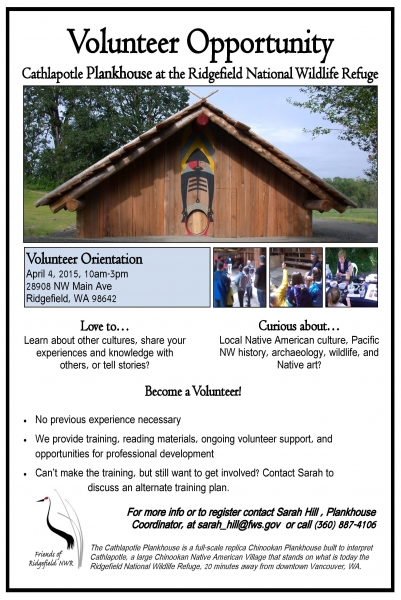 Venue:
Ridgefield National Wildlife Refuge - Carty Unit
Venue Details:
The Plankhouse is located on the Carty Unit of the refuge, off of Main Street in Ridgefield, WA.