A nature-loving, summer-camping TALON transformation
Dakota Gaines,
November 12 2014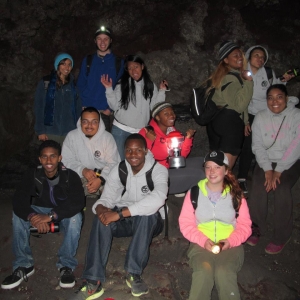 My earliest memory of feeling connected to nature was going to outdoor school in sixth grade. It was a week-long SEI Academy program at a campground on Mill Creek, a tributary of the Willamette River.
I had a blast. I was the kid who "accidentally" fell in the water when learning about aquatic life, just because I wanted to get a little closer to the newts. It was also my first time camping, which seemed really strange and scary at the time. Dark! Can't see what's coming! No door to lock! But I'm a seasoned pro now.
I returned to outdoor camp in seventh grade, but my exposure to nature was pretty limited after that. As I high school junior in Gresham, I heard about the TALON program, and I knew it would give me many opportunities to be that kid again. I wanted to be more in tune with nature. So I applied, and was accepted.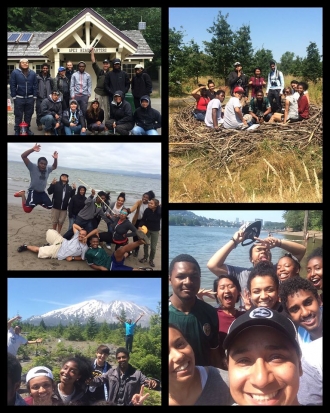 A program of the Audubon Society of Portland, TALON educates and employs young adults ages 16 to 22 to Teach, Advocate, Lead, Observe and Nurture. It provides skills for participants to move into and excel in conservation-related professions. Based out of Audubon's Eastside branch at Leach Botanical Garden, the program aims to reach diverse cultural and ethnic communities, especially those in East Multnomah County.
Before TALON, bugs made me uncomfortable, birds were a nuisance, and plants were just plants. TALON helped me realize that all living things are beneficial to humans in so many ways. Without spiders, there would be an uncontrollable, uncomfortable and unreasonable (in my view) amount of mosquitos. So now? Big fan of spiders.
Trees protect our drinking water by preventing erosion, and plants with edible and medicinal properties can be found throughout our forests. I started seeing and really getting these connections. TALON opened my eyes to the natural world.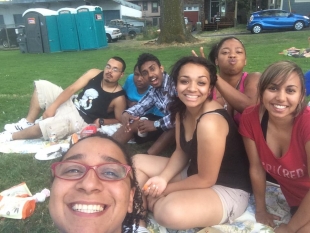 TALON is a pretty new program, and I was lucky to be part of its first two summers (2013 and 2014). The fun starts with a 10-week training in local natural history, environmental science, and local and regional conservation issues. We visited the Tillamook Forestry Center for hands-on conservation lessons. We pulled English ivy at the Audubon Center to learn about sanctuaries. We organized an all-ages nature fair at Leach Botanical Garden. Did we bond? Heck yeah!
After the training, program members are assigned apprenticeships. I was a camp counselor both years, working with kids ages kindergarten through 11th grade. I helped with day camps at Audubon and Leach Botanical Gardens, and overnight camps in places like Newport and the San Juan Islands.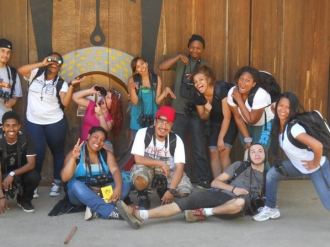 One camp that stands out in my memory is a two-week trip for high schoolers to the San Juans. One day, thousands of dead jellyfish washed ashore. We starting pulling them out of the water with a big stick, amazed at how pretty they were. I had never seen a jellyfish before. Another time, a fox strolled right by our campfire at twilight.
Two summers as a TALON member developed my love for and knowledge of nature, plus the job skills and professional connections needed to apply for and get an office assistant position with The Intertwine Alliance this fall. I joined the team in October. It's my first office job. With long-term goals to become a surgeon and one day open a nonprofit health clinic, the skills I'm gaining now will help me down that road.
I look forward to meeting partners and friends of The Intertwine — starting at the youth-themed Intertwine Alliance Summit this Friday, Nov. 14, at the Oregon Zoo. I'll be there, sharing my TALON experiences. Hope to see you! (Note from editor: It's not too late to register for the event!)