Thursday, June 19, 2014 -

1:00pm

to

6:00pm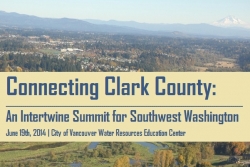 Please join us on June 19th for "Connecting Clark County" -- an Intertwine Alliance event that brings together Southwest Washington leaders and practitioners active in outdoor recreation, community development, and environmental work.

With this first regional Summit, we aim to:
create a more unified vision and strategy for advancing successful environmental and parks initiatives;
more fully engage the public and area elected officials; and
build a stronger network of providers in the region.
In addition, we hope to more closely connect Clark County practitioners with the work occurring throughout the four-county Intertwine. 

The Intertwine Alliance is a bi-state coalition of 117 organizations, agencies and for-profit entities working to advance environmental conservation and public engagement issues.

We look forward to supporting this important effort to move a regional agenda north of the river forward. For more information, contact David Cohen, Program Manager.
 
Venue:
City of Vancouver Water Resources Education Center