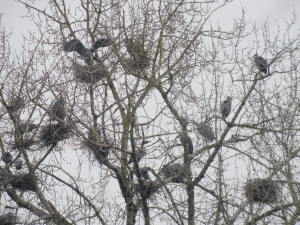 March 25, 2016 ~ The Audubon Society of Portland, Urban Greenspaces Institute and The Intertwine Alliance team up once again to bring Great Blue Heron Week to The Intertwine, this year from June 1 to June 12. "Herons of The Intertwine" marks the 30th anniversary of the regionwide celebration of the iconic bird and the natural areas it thrives in.
All are invited to submit a field trip, lecture, class, event, or other activity celebrating Portland's city bird, the other species that share the region's parks and natural areas, and the wildlife refuges of The Intertwine. Please send a description of your field trip or event to Mike Houck at mikehouck@urbangreenspaces.org by Tuesday, May 10. If approved, it will be included in the official list of Great Blue Heron Week festivities.
Click here for the format to use when submitting events, and for more information about this year's celebration.