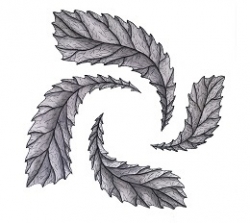 Nov. 18, 2014 | Oregon Zoo -- Recipients of  this year's Force of Nature Awards were announced and celebrated at the Intertwine Alliance Fall Summit on Nov. 18 at the Oregon Zoo. 
Recognizing vital organizations, important regional projects, and outstanding individual efforts, the annual awards spotlight successes across the 3,00-square-mile ecological region known as The Intertwine. 
This year's winners (with more detail below):
Outstanding Organization/Project
Outstanding Young Professional  
Outstanding Community Leader
Lifetime Achievement 

​Kelly Punteney, Vancouver-Clark Parks and Recreation Department
In addition, pioneering trails advocate Barbara Walker, who passed away in October, was remembered and honored as an early and important force behind the metropolitan trail system now known as The Intertwine. Whether co-founding the 40-Mile Loop Land Trust in 1981, nudging the early decisions that led to the Eastbank Esplanade, or blazing a wheelchair-accessible path to the summit of Powell Butte, Walker was a powerful agent for change.
Nominated by their peers, Force of Nature award recipients are chosen for their outstanding contributions to a robust regionwide network of parks, trails and natural areas.
 
---
2014 Force of Nature Awardees:
Urban Ecology Research Consortium -
Outstanding Organization/Project
UERC
 is a consortium of people from various educational institutions; local, state and federal governments; non-profit organizations and businesses; and independent professionals and students interested in supporting urban ecosystem research. It creates an information-sharing network that collects and uses ecological data in the Portland/Vancouver area. 
UERC's major activities include an annual symposium in January/February, and brown bag presentations throughout the year. An important backbone to the region's professional urban habitat community, UERC influences what people think is possible, what they seek out local assistance for, what studies get repeated, and how funding is distributed across many efforts. 
Portland Children's Museum  -
Outstanding Organization/Project
On Earth Day 2013, Portland Children's Museum opened
"Outdoor Adventure,"
a 1.3-acre area dedicated to learning through play in nature. Center researchers, school teachers and museum staff worked with Mayer/Reed landscape architects to carefully design an innovative outdoor learning environment. Visitors to Outdoor Adventure have praised the fact that nothing is manufactured, plastic, or off limits. Partners in the project included Portland Parks and Recreation, the Oregon Zoo, and the Audubon Society of Portland for its gold certification of backyard habitat for wildlife. World-renowned artist Patrick Dougherty was commissioned to create "Big Mister Twister," a series of interconnected huts — the ultimate setting for hide-and-seek. Attendance last summer, when the museum is typically slow, broke records. Kids and parents alike have eagerly embraced opportunities to dig in dirt, play in water, scramble over boulders, and build forts with natural materials. 
Jalene Littlejohn - Outstanding Young Professional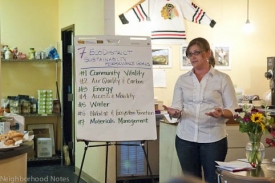 Doing awesome work with meager resources, Jalene recently received a Masters of Environmental Management from Portland State University, focusing on habitat connectivity and climate change adaptation planning for wildlife. She volunteers with the Johnson Creek Watershed Council, the Lents International Farmers Market and the Lents Neighborhood Association. She has demonstrated leadership as a founding member of Green Lents, an all-volunteer non-profit with a mission to promote sustainable community by providing education, volunteer and leadership opportunities in and around the Lents neighborhood. She also works as a coordinator for the West Willamette Restoration Partnership, a diverse group of partners supporting habitat enhancement and stewardship efforts to provide a key link in the wildlife corridor connecting Forest Park and Tryon Creek State Natural Area. An experienced project manager and trained wildlife professional, Jalene skillfully leads the group in a collaborative manner that fosters each organization's goals in support of the larger region's vision.
​Nikkie West - Oustanding Young Professional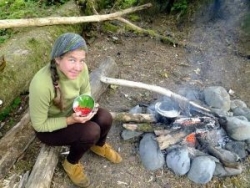 ​Nikkie manages the Backyard Habitat Certification Program at the Audubon Society of Portland. She works with many volunteers, builds partnerships, and leverages Audubon's work with other organizations, especially those with habitats in ecologically significant areas. She has applied her total dedication and infectious optimism to the management of many complex projects. After several years traveling, living and working in West Africa, India, South America and Honduras, she came to Portland and began volunteering in conservation and taking continuing education classes in botany. Along with working for the City of Milwaukie and the Community Cycling Center, Nikkie helped found and was the board president of the North Clackamas Urban Watershed Council. She has also participated in The Intertwine Alliance Conservation Education Leadership Council.
Dick Schouten - Outstanding Community Leader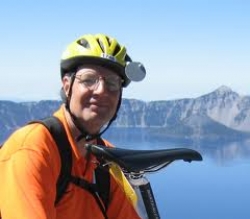 Washington County Commissioner Dick Schouten represents District 1, the Aloha, Beaverton, Cooper Mountain and Reedville area. A long-standing supporter of conservation, parks, and safe biking and walking, his community involvement includes numerous boards and committees, such as the Washington County Homeless Plan Advisory Committee, the Westside Transportation Alliance Board, the Washington County Community Development Block Grant Policy Advisory Board, and the Council Champions Board (Tualatin Hills Park & Recreation District). He served on the "Make Our Park Whole Committee," which helped obtain a 22-acre addition to the Tualatin Hills Nature Park. In 2003 he was named "Legislator of the Year" by the Oregon Parks Providers. A Washington County Commissioner since 2000, career highlights include: 
The 10-year transformation of an empty lot owned by the City of Beaverton into an outstanding neighborhood park, now known as Roy E. Dancer Park.
Community organizing efforts to purchase and preserve the 10-acre Dent Property now part of Lowami Hart Woods Park.
Worked closely with then-Washington County Chair Tom Brian, Trust for Public Land and many others to secure major funding to purchase a 30-acre Beaverton property on the Westside Trail.
Led Washington County's efforts to leverage its $1.3 million "Local Share" Metro Greenspaces money for the public purchase of: Dirksen Nature Park, the Sunrise Property on Bull Mountain, significant additions to Lilly  K. Johnson Park, a new Hillsboro park to be built on the old Orenco Golf Course, and a new 20-acre community park in Aloha.
Kelly Punteney - Lifetime Achievement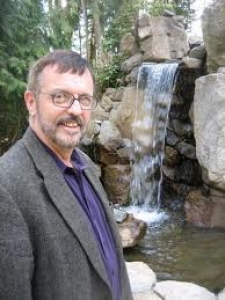 Kelly served for nearly 36 years as the parks, trails and greenways planner/developer for the Vancouver-Clark Parks and Recreation Department. A graduate of the University of Oregon with degrees in landscape architecture and parks and recreation management and planning, he was an early advocate for trails and bike lanes. His legacy includes the Waterfront Renaissance Trail (12 miles from Wintler Park to Frenchman's Bar Trail ), the Discovery Loop Trail (2.3 miles), Burnt Bridge Creek Greenway and Trail (8 miles in 2 sections) and Frenchman's Bar Trail (2.5 miles). The award-winning Waterfront Renaissance Trail just might be the jewel of the system, connecting the downtown area to shops and restaurants along the Columbia River waterfront. On a regional level, he helped promote the 40-Mile Loop, among other alternatives to traveling by car. 
In 1997 Kelly was named cultural division manager for the Vancouver-Clark Parks and Recreation Department, directing the historic and arts program for the city and county. He was also part of the team that developed the Fort Vancouver National Historic Reserve Partnership. 
In 2000 he turned his attention to the city and county trails and greenways programs, and from 2003 to 2005 supervised the City of Vancouver Urban Forestry Program. The latest project he managed was the updated Clark County Regional Trail and Bikeway Systems Plan 2006, designated a "Legacy Project of the Lewis & Clark Bicentennial." This work included the "Blazing New Trails Symposium" that drew more than 300 professionals to create a 20-year vision plan for a Clark County regional trail system.
In June 2011, Washington Governor Chris Gregoire selected Kelly to fill a vacancy on the Washington State Parks and Recreation  Commission, the seven-member volunteer team that oversees management  and policy matters for the nearly 120 parks in Washington's state parks system. 
In January 2102, some 300 people saluted Punteney at his retirement from public work. He was praised as a visionary by trails enthusiasts, tree lovers, parks advocates, school officials and friends.