Friday, April 10, 2015 - 10:00am
USFWS - Ridgefield National Wildlife Refuge
Learn about landscapes, wildlife, and interpretation techniques to prepare for the many students that come to both Ridgefield and Steigerwald Lake National Wildlife Refuges.  We will meet at Ridgefield NWR three Fridays in April and then one Friday in May to learn how to apply these lessons to Steigerwald Lake NWR.
Contact Park Ranger Josie Finley at 360-887-4106 or by email at Josie_Finley@fws.gov to learn more about this training series at the complex and other ways you can get involved.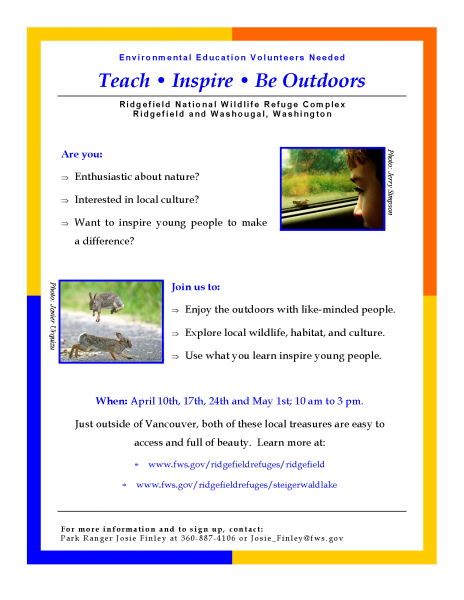 Venue:
Ridgefield National Wildlife Refuge & Steigerwald Lake National Wildlife Refuge
Venue Details:
We will meet at Ridgefield NWR (Ridgefield, WA) the first three sessions and then at Steigerwald Lake NWR (Washougal, WA) the last session.